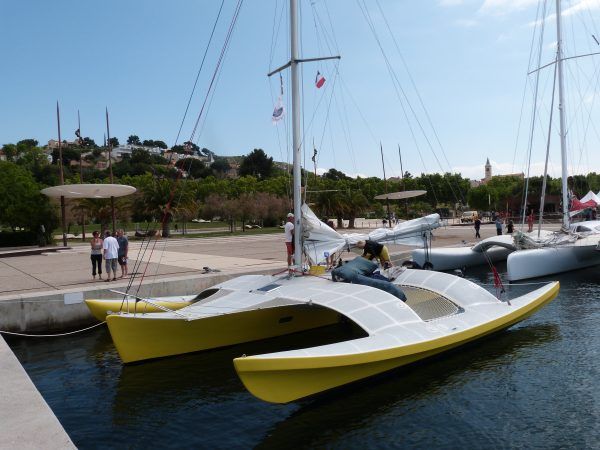 This trimaran is exceptional in several ways. Only 3 examples built by the Brazilian master Carlos Ribeiro in Cabo Frio, but above all the constructive principle: Lined in strip planking of red cedar on carbon frames (int/ext epoxy glass facings)! A tour de force for the time! And overpriced manufacturing! The price was forgotten, the quality remained! Hervé Cléris wanted a trimaran that was easy to handle but very efficient for the OSTAR 1988 (POL SEITE 3rd in Class 4), this was the case… but an error in interpreting the samples from the bulkhead will cause worrying cracking noises which will not allow to the various owners to take full advantage of the boat (this is undoubtedly what will have paradoxically protected this sports coupe with significant potential.
The ex RACA, PHARMILTALIA will then be used as a sports sailing school departing from Deauville before being repatriated to the Mediterranean. The analysis of the structural weakness carried out (only in the central part of the main partition, curiously), the repair was simple (it was enough to put back the sampling recommended by the designer after scarfs and applications of multidirectional glass/epoxy fabrics) and the robust boat as it always should have been!). A Newick trimaran is as much about naval architecture as it is about aviation… these multihulls are extremely strong if they respect the "magician's" recommendations. We had the opportunity to test this boat in tough conditions at all speeds, but the long leg at an average of 15 knots upwind (not very rough seas) was a revelation. The "Half Moon" floats are superb and offer a magnificent solution to variable geometry (lots of finesse in light airs, progressive volume build-up depending on the support).
The boat is now in perfect condition available in the south of France.
Description
intérieur en fin de refit
REFIT 2018
Toutes les factures peuvent être fournies et le bateau a couté avec l'achat environ 130 000€
Démontage complet intérieur et extérieur,
Ponçage complet extérieur coque et pont avec enduisage complet à l'époxy, ainsi que la dérive et le gouvernail
Peinture complète intérieur et extérieur 3 couches de peinture époxy  MAP YACHTING
Changement du panneau de pont arrière par panneau neuf et création d'un second dans la partie centrale et installation du panneau neuf pour une meilleure accessibilité. Installation d'un guindeau électrique et positionnement de la chaine en intérieur a cote du mat pour centrer les poids
Changement des filets de pont et des protections
Révision du moteur et modification du système de descente pour plus de facilite d'usage
Grand-voile INCIDENCE neuve avec chariots neufs également
Tous les cordages ont été changes,
Réfection des Winchs et réinstallation
Création d'une casquette de pont et installation
Installation électrique entièrement neuve, intérieur et matériel également
Installation d'une bâche a eau et création du circuit
Changement des fenêtres par des neuves
Matériel électrique installe neuf :
Pile à combustible EFOY
3 batteries neuve ,2 de service et une pour le guindeau installés sous la table a carte pour un centrage des poids
2 panneaux photovoltaïque démontables neuf avec les accessoires
Panneau de commande et de contact neuf
Intérieur
Peinture complète
Création d'une trappe de survie en cas de retournement
Réfection complète de la cuisine, des equipets, de la table a carte
Création d'un arrondi pour un passage plus aise du carre vers la couchette avant avec du carbone
Installation neuve de l'électronique de bord avec ordinateur fourni  (sondeur, vitesse et vent)
Changement des matelas
Installation d'un toilette a l'avant
Mise en place d'une balise de détection en cas de problème
Installation d'un frigo pour y conserve des bières au frais
Extincteur, pompe et nombreuse pièce d'accastillage neuve
Radio neuve
Caractéristiques
Modèle / Version

Newick racer 40

Chantier / Boatyard

Carlos Ribeiro

Architecte / Architect

Dick Newick

Année de construction / Launching year

1988

Matériaux / Material

Strip planking/carbone

Pavillon / Flag

Français

TVA Payée / Paid VAT

oui/yes

Longueur / LOA

12,20

m

Largeur / Beam

8,84

m

Tirant d'eau / Draft

0,50/2,10

m

Poids / Weight

3000

kg

Surface au près / Winward sail surface

985sqm

m²

Système anti-dérive / Keel type

1 dérive

Motorisation / Engines

HB 4st Yamaha 9,9hp