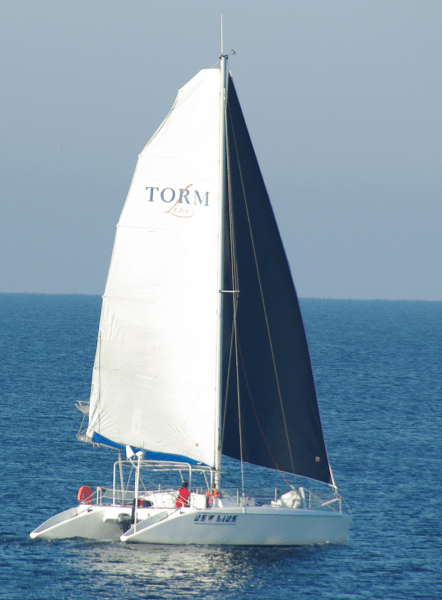 This affordable Catamaran can do it all. It offers great sailing pleasure, with remarkable performance, including upwind, in complete safety.
The central nacelle houses a large and comfortable saloon completely sheltered by fabrics fitted to measure on an aluminum structure. All this makes it possible to offer a pleasant comfort at anchor, while maintaining the lightness of the boat.
New line offers 3 berths including two double berths in the floats and a double berth in the central part. A single berth is also available aft of the starboard float.
Nothing is missing on board this simple and intelligent multihull. A kitchen with 2 burners, pressurized water, toilets, and the possibility of providing a cold unit.
In the steerable lifting single outboard version, with saber daggerboards, the boat is perfectly maneuverable and turns on the spot. Port maneuvers are not a problem.
It provides its crew with real sensations of a safe and fast catamaran. New line is a Derek Kelsall plan. Its asymmetrical carbon daggerboards offer exceptional performance upwind, with great sailing comfort. Downwind performance is ensured by the large asymmetrical spinnaker for very downwind gaits, and the gennaker for tighter gaits. Its speed makes it possible to navigate under sail with very little air. These capacities open up the field of navigation possibilities closed to many multihulls (or motors).
This boat has been taken out of the water every year. The rigging was changed in 2022. The sails are in very good condition and the serviced and overhauled engine will provide service for a long time to come.
Owner Comment:
After 20 years of good and loyal service, we are selling our TROPIC 32 New line with great regret.
It is a marine boat, fast, light, handy and ….. Spartan, with which we have scoured the Atlantic and Channel coasts as a family. Easy to maintain and rustic, it has the faults of its qualities… minimalist toilets and a comfort that we found more than sufficient to sail for several weeks in a row every year but which will not necessarily satisfy everyone.
If you know how to keep it light, it will give you very good performance and takes off from 5 knots of wind.
Description
Pourquoi choisir un open cat? (Par Philippe Echelle)
Le choix d'un excellent catamaran découvrable se justifie pleinement même si la tendance du marché est inverse. La plupart des nouveaux venus au multicoques catamaran le choisisse pour son salon de pont et la stabilité, mais ce volume "magique" coute cher en poids, en prix et en fardage! Si vos navigations s'effectuent la plupart du temps en zone tempérée ou chaude l'été, la nacelle couverte perd de sa pertinence. Si vous aimez les sensations de vitesse que procure en théorie le multicoque et les mouvements à la mer très doux (poids centrés et centre de gravité abaissé sur l'open cat), vous choisirez l'open cat. Le "Confort" intérieur n'est pas sacrifié, les volumes et les fonctions principales sont préservés, mais dans une déclinaison plus simple, sans mobilier ostentatoire (encore du poids gagné… et de l'argent). Avec ce Kelsall Tropic 32, les côtes européennes s'offrent à vous, la Méditerranée sera un formidable terrain de jeu et la traversée de l'Atlantique reste tout à fait possible pour un équipage averti . Un catamaran complet, solide, amusant et raisonnable!
Caractéristiques
Modèle / Version

KELSALL TROPIC 32

Chantier / Boatyard

TROPIC COMPOSITES

Architecte / Architect

DEREK KELSALL

Année de construction / Launching year

1989

Matériaux / Material

composite polyester

Pavillon / Flag

Français

TVA Payée / Paid VAT

oui/yes

Longueur / LOA

9,80

m

Largeur / Beam

6,10

m

Tirant d'eau / Draft

0,60

m

Poids / Weight

3000

kg

Surface au près / Winward sail surface

73

m²

Système anti-dérive / Keel type

2 dérives sabres

Motorisation / Engines

YAMAHA 15HP 2007 300H