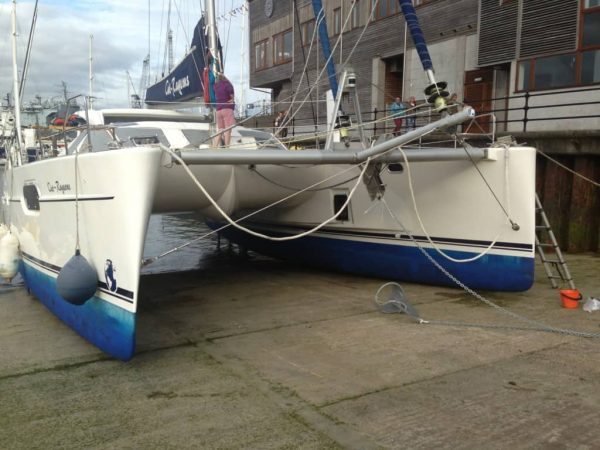 MAGNIFIQUE EXEMPLAIRE DE LA SERIE PHARE DU CONSTRUCTEUR CATANA. PRESENTATION  INTERIEURE ET EXTÉRIEURE SANS DEFAUT, EQUIPEMENT RECENT ET COMPLET; PRET POUR DEPART IMMEDIAT, VISIBLE AU GUATEMALA  (bateau ttc, pavillon UK)
Description
Prix : 425 000 € TVA PAYEE / Price : 425 000 € VAT PAID
Ce Catana 471 est une version propriétaire. La coque tribord lui est entièrement dédiée avec sa large couchette double à l'arrière et à l'avant sa grande salle de bains avec toilette électrique. La coque babord est composée d'une cabine arrière double convertible en deux couchages simples, une salle de bains avec toilette électrique, une cabine double à l'avant et un cabinet avec toilette électrique et lave-mains.
Il est très bien équipé avec dessalinisateur, panneaux solaires, AIS, centrale de navigation Raymarine, pilote automatique, Iridium, générateur, convertisseur/chargeur….
Il vous attend pour repartir …!
This Catana 471 has an owner's layout encompassing the entire starboard hull and comprising of a large queen size bed, a seated dressing area, laundry area including washing machine, ample cupboards and storage. Forward there is a very large shower room which includes vanity unit and electric toilet (fresh or sea water flush). To port, there is a large ensuite aft cabin which can be either two singles or one double and then forward there is another ensuite berth with an electric toilet.
She is very well equipped: watermaker, solar panels, AIS, Raymarine radar/plotter, auto pilot, Iridium, electric windlass, generator, inverter/charger…..She is waiting for you…..!
Specifications
Chantier / Yard: Catana
Modèle / Type: 471
Année / Year : 2006
Longueur hors tout / LOA: 15.70m
Longueur coque / Hull length: 14.30m
Longueur à la flottaison / Waterline length : 13.80m
Largeur / Beam: 7.70m
Tirant d'eau / Draft: 1.25m avec dérives relevées – 2.50m dérives bas /1, 25m with daggerboards up – 2.50m daggerboards down
Déplacement à vide / Displacement empty: 12.500 kg
Capacité gasoil / Fuel tank: 2 x 400 ltr
Capacité eau douce / Fresh water tank: 2 x 400 ltr
Réservoir eaux noires / Black water tank: 2 x 68 ltr
Motorisation / Engine: 2 x Yanmar 4JH4-TE 75 CV / HP
Hélices / Propellers: 2 Hélices Brunton repliables tripales (2012) / 2 Foldable Brunton Auto 3-blade propellers (2012)
Transmission / Drive: Saildrive Yanmar SD50
Matériel coque / Hull Material : Composite
Heures moteurs / Engine hours: 900 h approx
Heures génerateur / Generator hours: 1400 h approx
Dernier antifouling / Last antifouling:
Pavillon / Flag: UK
Visible / Located : Guatemala
Moteurs / Engines
2 Moteurs 4JH4-TE Diesel 75 CV insonorisés et totalement séparés des aménagements / 2 Yanmar 4JH4-TE Diesel Engines 75 HP soundproofed and totally separate from the accommodations
Moteurs refait – 900h / Engines rebuild – 900h
2 Ecrans de contrôle moteurs avec alarmes au poste de barre tribord / Engine control panels with alarms in Starboard Helm Station
Commandes moteurs à chaque poste de barre / Engine controls at each helm station
Filtres à gasoil/décanteurs / Fuel filters/decanters
Mât & Gréement / Mast & Rigging
Mât Fibre Carbone blanc laqué ALUCARBON / White lacquered ALUCARBON carbon fiber mast with spreaders
Bout-dehors aluminium blanc laqué / White lacquered aluminium bowsprit
Rail de guindant Harken sur chariots à billes / Mainsail luff Harken batt-car system
2 Haubans en inox Monotoron / 2 Shrouds in white covered standed stainless steel
Etai de génois en inox Monotoron / Genoa stay in stranded stainless steel
Etai pour solent en inox Rod / Solent stay in stainless steel rod
Projecteur de pont et feux de navigation / Deck projector and navigation lights
Radar et support d'antenne / Radar and antenna support
Bôme aluminium blanc laqué / White lacquered aluminum boom
Poutre structurelle avant en aluminium laquée blanc / White lacquered aluminium front cross beam
Double girouette Windex en tête de mât / Double Windex windvane on mast head
Gréement Courant/ Running Rigging
Enrouleurs pour solent et génois PROFURL / PROFURL solent and genoa roller furling gear
Système de ris automatique ramené au cockpit avec winch électrique LEWMAR / Automatic reefing system for the Mainsail from the cockpit on electric winch
Lazy bag latté en Sunbrella / Battened mainsail Lazy Bag
Lazy-jacks réglables / Adjustable lazy-jacks
Drisses : grand voile – spi – solent – génois – ris en Spectra / Halyards : mainsail – spinnaker – solent – genoa – reefing lines in Spectra
Ecoutes : grand voile – solent – génois en polyester double tresse / Sheets : Mainsail -solent – genoa in double braid polyester
Accastillage complet pour spinnaker – poulies, drisse, bloqueurs / Complete spinnaker gear – ball bearing blocks, halyards, stoppers
Voiles / Sails
Grand voile lattée à rond de chute en Dacron – Elvstrom – 91m² / Full batten main sail cross cut Dacron – Elvstrom – 91m²
Génois coupe triradiale avec bande anti-UV Sunbrella avec enrouleur sur le bout-dehors – 82m² / Genoa triradial cut with Sunbrella UV protection on bowsprit and roller furling gear
Solent autovireur en Dacron avec bande anti-UV Sunbrella sur enrouleur – 28m² / Self tacking solent – cross cut – Dacron with Sunbrella UV protection – roller furling gear – 28m²
Equipement de pont / Deck Fittings
2 Winchs Lewmar pour écoutes génois – 54 / 2 Lewmar genoa sheets winches – size 54
1 Winch Lewmar électrique centrale pour drisse de grand voile et prise de ris – 54 / 1 Lewmar central electric winch for mainsail halyard and reefing lines – size 54
2 Winchs Lewmar pour les écoutes de grand voile – 48 / 2 Lewmar mainsail sheets winche – size 48
2 Winchs Lewmar pour les dérives et enrouleurs – 44 / 2 Lewmar winches for dagger boards and roller furling gear – size 44
1 Winch Lewmar pour les drisses de voiles avant – 44 / 1 Lewmar Winch for head sail halyards – size 44
Assastillage complet Lewmar avec poulies à billes / Complete gear with Lewmar ball bearing blocks
Double palan d'écoutes de Grand Voile / Mainsail Double sheeting system
Solent auto vireur avec poulies à billes / Solent self tacking track with ball bearing blocks.
2 Poulies à billes stand up pour écoutes de génois / 2 Genoa sheets stand up ball bearing blocks
19 Bloqueurs SPINLOCK / 19 SPINLOCK Stoppers
20 Hublots ouvrant pour la clarté et la ventilation – Moonlight / 20 Opening hatches for light and ventilation- Moonlight
Ligne de vie autour du roof / Lifelines around the roof
Cale-pieds et mains courantes en teck massif / Deck toe rails and handholds in solid Teak
Trampoline grand confort à mailles tressées, transfilé maille par maille / High comfort woven trampoline, attached mesh by mesh
2 Balcons avant avec assises en teck / 2 Fore pulpits with seats in Teak
2 Balcons arrières renforcés / 2 Reinforced aft pulpits
8 Chandeliers inox 60cm / 8 Stainless steel stanchions 60 cm
Doubles filières inox / Double guard lines all around the boat
2 Portes de coupée / 2 Boarding gates
10 Larges taquets d'amarrage 450mm / 10 Large deck cleats 450mm
Pompe à eau de mer sous pression pour nettoyage de pont au pied du mât – 1000 ltr/h / 1000 Ltr/h pressurized seawater pump to clean the deck, outlet at mast foot
Mouillage / Mooring
Guindeau électrique 1500W avec télécommande, disjoncteur et bouton de commande au poste de barre tribord / LOFRANS 2000W electric windlass, circuit breaker and remote control, control at starboard helm station.
Patte d'oie / Mooring bridle lines
Ancre Delta 25kg – chaîne 50m de 10mm et bout en nylon 20m de 18mm / Delta Anchor 25kg -50m of 10 mm chain and 20m of 18 mm stranded Nylon warp
8 Pare battages diamètre 20cm / 8 Cylindrical white fenders diameter 20cm
Divers amarres diamètre 16mm : 4 x 15m, 2 x 25m, 1 x 50m / Set of black braided Nylon warps, diameter 16 mm: 4 x 15m, 2 x 25m, 1 x 50m
Cockpit
Grande porte-fenêtre coulissante en aluminium / Large sliding window in aluminum
2 Grands coffres de rangements sous cockpit couverts avec du teck / 2 Large storage lockers under cockpit slatted with teak
1 Grand coffre de rangement sous assise / 1 large storage locker in cockpit seat
Table de cockpit en teck / Teak cockpit table
Coussins de cockpit – housses neuves 2018 / Cockpit cushions with backrests – new covers 2018
Bimini rigide en sandwich mousse PVC / Bimini hardtop made of sandwich, waterproof
Pare brise amovible pour le bimini / Soft removable windscreen for the Bimini
Tauds de soleil latéraux et arrières amovibles en canvas / Canvas removable cockpit enclosures
Eclairage intégré / Built-in cockpit lights in Bimini
Jupes / Transoms
Jupes avec teck / Completely slatted with Teak
Echelle de bain intégrée avec marches en teck / Built in Stainless steel swim ladder, with Teak steps
Douche de cockpit avec eau douce froide et chaude sous pression / Cockpit shower with pressurized cold and hot water
4 Main courantes / 4 Handrails
Poutre arrière / Aft beam
Bossoirs lacqué blanc avec bloqueurs SPINLOCK / Davits, white lacquered with SPINLOCK stoppers
2 Palans de relevage avec mousquetons inox / 2 Lifting lines with stainless steel shackles snap
Annexe AB aluminium – NEUF 2017 / AB Aluminium Dinghy – NEW 2017
Hors bord YAMAHA Enduro 15CV – 2 temps / YAHAMA Enduro outboard engine – 15HP – 2 stroke
Poste de barre / Helmstation
2 Consoles de barre en polyester / 2 Polyester steering stations
2 Assises de barre basculantes assis/debout en inox avec coussins / 2 Double inox folding steering seats – stand and seat position – with cushions
2 Compas de route magnétiques avec carters de protection et éclairage / 2 Magnetic compasses with correction, protection covers and lighting
2 Barres à roue avec freins habillées avec du cuir / 2 Leather covered steering wheels with brakes
Système de transmission mécanique WHITLOCK / WHITLOCK mechanical transmission system
2 Safrans suspendus et compensés – montés sur paliers sphériques auto-alignant JP3 / 2 Balanced spade rudders mounted with JP3 self-aligning bushers
Barre franche de secours / Emergency tiller
Electronique / Electronics
Centrale de navigation Raymarine / Raymarine navigation center
Raymarine radar et lecteur de cartes / Raymarine radar and plotter
Girouette/anémomètre/sondeur Raymarine / Raymarine wind instruments and sounder
2 Ecrans multifonction / 2 Multifunctional displays
Ecran traceur Raymarine C90 au poste de barre babord / Raymarine C90 plotter display at portboard helm
Pilote automatique Raymarine poste de barre tribord + télécommande / Raymarine auto pilot control at starboard helm + remote handset
Ordinateur / PC
Iridium – WiFi
Réflecteur radar actif / Active radar reflector
Radio Icom VHF avec AIS intégré émission/réception / Icom VHF radio with integrated AIS transmitter/receiver
VHF portable Icom / Handheld Icom VHF
Electricité / Electrical
Générateur ONAN 4 KVA – environ 1400h / ONAN Generator 4 KVA – approx 1400h
1 Buzzer d'alerte de décharge des batteries / Alarm for discharge of batteries
Tableau électrique complet à la table à cartes avec fonctions 12V et 220V du bateau / Electrical panel at the chart table with 12V and 220V functions
Ampèremètre et voltmètre digitale / Digital ampmeter and voltmeter
2 Prises 12V / 2 x 12V outlets
8 Prises 220V / 8 x 220V AC outlets
1 Prise de quai (240AC) / 1 Shore power (240AC) inlet
Climatisation Webasto avec refroidissement à la coque / Webasto air conditioning water cooled
Compresseur de plongée / Dive compressor
Convertisseur/Chargeur Victron / Victron inverter/charger
Batteries moteurs 2 x 100Amp / Engine starting batteries 2 x 100Amp
Batteries servitude au gel 6 x 135Amp – neufs en 2014 / House batteries 6 x 135Amp – new in 2014
Panneaux solaires 1000W / 1000W Solar panels
Moteur babord avec un chargeur externe BALMAR pour une meilleure charge / Port engine has an external BALMAR charger for improved charging whilst under engine power
Plomberie / Plumbing
Dessalinisateur SCHENKER 60 L/h – 12V – neuf en 2017 / SCHENKER 60 L/h Watermaker -12V- new in 2017
2 Réservoirs d'eau douce de 400 L avec jauges / 2 Fresh Water tanks 400 L with gauges
2 Réservoirs de gasoil de 400 L avec jauges au pied du mât / 2 Fuel tanks of 400 L at foot mast, with gauges
Filtres à charbon pour chaque circuit d'eau douce / Coal filter for each fresh water circuit
2 Pompes à eau douce sous pression indépendantes avec vase d'expansion, interconnectables / 2 Independent pressurized freshwater pumps with accumulator, interconnectable
2 Chauffes eau de 40ltr connectés soit au circuit de refroidissement moteur, soit par 220V soit par le générateur / 2 Water heaters of 40 ltr on AC current, engines exchangers or generator
2 Réservoirs eaux noires de 68 L – avec évacuations par gravité et par nable de pont / 2 Holdings tanks of 68 L – with drain at sea or by deck vacuum
Hifi
Radio FUSION avec télécommande dans le cockpit / FUSION HiFi stereo system with remote control in the cockpit
Hauts parleurs intérieurs et extérieurs / Inside and outside loudspeakers
TV intégrée dans le salon / Pop-up TV in the saloon
Aménagement intérieur / Interior Layout
Boiseries en cerisier verni satiné / Trims in satin varnished cherry wood
Plafonds isothermes et vaigrages en suédine / Isothermol ceilings Suedine covered
Eclairages halogène / Halogen lighting
Rideaux occultant isothèrmes extérieurs de roof / Isothermal external roof curtains
Salon / Saloon:
Selleries en mousse haute résilience – housses neuves en 2013 / Cushions in high-resilient foam – new covers in 2013
Table de salon avec bar intégré / Saloon table with built-in bar
Eclairage halogène avec variateur / Halogen lighting with dimmer
Table à cartes / Chart Table:
Table à cartes avec rangement / Chart table with storage
Assise de table à cartes pivotante / Rotating chart table chair
Pupitre pour électronique et instruments / Panels for electronics and instruments
Prise 12V / 12V Outlet
Cuisine / Galley:
Cuisine avec vaste plan de travail en Corian / Galley with large Corian countertop
Nombreux rangements / Numerous storage lockers
Poubelle sélective / Selective sorting garbage disposer and trashcan
Evier 1 1/2 bacs en inox / 1 ½ Stainless steel sink
Réfrigérateur (Frigoboat) avec système de réfrigération KOK avec refroidissement à la coque – 160 ltr / Refrigerator (Frigoboat) with KOK Refrigeration system on hull exchange – 160 ltr
Congélateur (Frigoboat) inox avec système refroidissement KOK à la coque – 110 ltr / Stainless steel freezer (Frigoboat) on KOK hull exchange system – 110 ltr
Congélateur Waeco Coolfreeze CF80 dans un coffre de cockpit / Waeco Coolfreeze CF80 freezer in a cockpit locker
Table de cuisson 3 feux gaz Force10 / 3 Burners Force10 gas stove
Four / Oven
Micro ondes / Microwave oven
Mitigeur avec joint céramique pour eau froide et eau chaude / Mixer tap with ceramic seals for fresh hot and cold water
Robinet eau de mer / Sea water tap
Robinet de vidange pour dessalinisateur / Drain tap for watermaker
Cabines / Cabins:
Flotteur propriétaire – tribord / Owner's hull – starboard
Lit queen size / Queen size bed
2 Sommiers à lattes indépendants montés sur charnières et vérins à gaz / Independant slatted bases on hinges and gas struts
2 Matelas mousse haute résilience / 2 High resilient foam mattresses
Eclairage Halogène et liseuses en tête de lit / Halogen lighting and reading lights above bed
Nombreux rangements avec étagères et tiroirs sous le lit / Numerous storages with shelves and drawers under the bed
Tous les hublots sont équipés de moustiquaires et stores enrouleurs / All portholes are equipped with mosquito screens and roller blinds
Salle de bain propriétaire à l'avant / Owner bathroom forward:
Douche spacieuse séparée avec caillebotis en teck et rideau de douche / Large molded shower stall with teak grating and curtain
Mitigeur céramique / Ceramic seals mixer tap and plexiglas protection
Vasque sur plan en Corian et mitigeur céramique / Corian countertop with built-in washbasin
Toilettes électriques / Electric head
Nombreux rangements pour linge et affaires de toilette / Numerous storages for linen and toilet articles
Coursive propriétaire / Owner Companionway:
Séparation du carré par une porte coulissante / Sliding door for access to the saloon
Nombreux rangements avec étagères et penderie / Numerous storages with shelves and hanging locker
Machine à laver 3kg / Washing machine 3kg
Flotteur invités – babord / Guests' hull – port
Cabine double arrière convertible en deux couchettes simples / Double aft cabin convertible into two single berths
Cabine double à l'avant / Double front cabin
Sommiers à lattes indépendants – montés sur charnières et vérins à gaz / Independant slatted bases – on hinges and gas struts
Matelas mousse haute résilience / High resilient foam mattresses
Eclairage Halogène et liseuses en tête de lit / Halogen lighting and reading lights above beds
Tous les hublots sont équipés de moustiquaires et stores enrouleurs / Portholes equipped with mosquito screens and roller blinds
Penderies et rangements avec étagères / Hanging lockers and storages with shelves
Coursive Babord / Port Companionway:
1 Salle de bain avec vasque et toilette électrique / 1 Molded shower room with washbasin and electric marine head
1 Cabinet avec toilette électrique et lave-mains / 1 Cabinet with electric toilet and handbasin
Rangements pour linge et affaires de toilette / Storages for linen and toilet articles
Mitigeurs céramiques / Mixer tap with ceramic seals
Sécurité – divers / Safety – extras
Survie 8 pers / Liferaft 8 pax
Ancre flottante / Parachute anchor
Para-ancre australien / Australian Para-Anchor
Raymarine life tag system
2 Pompes de cales manuels / 2 Manual bilge pumps
4 Pompes de cales électriques avec alarmes / 4 Electric bilge pumps with alarms
2 Couches d'antifouling haute résistance INTERNATIONAL avec couche de base en epoxy / 2 Layers of INTERNATIONAL high strength polishing antifouling with epoxy base coat
Caractéristiques
Modèle / Version

catana 471

Chantier / Boatyard

Catana

Architecte / Architect

CHRISTOPHE BARREAU

Année de construction / Launching year

2006

Matériaux / Material

sandwich mousse verre polyester parements de fonds de coques en Kevlar

Pavillon / Flag

UK

TVA Payée / Paid VAT

oui/yes

Longueur / LOA

14,30

m

Largeur / Beam

7,70

m

Tirant d'eau / Draft

1,25

m

Poids / Weight

12500

kg

Surface au près / Winward sail surface

173

m²

Système anti-dérive / Keel type

dérives latérales

Motorisation / Engines

2x75hp (900h depuis refection complète)