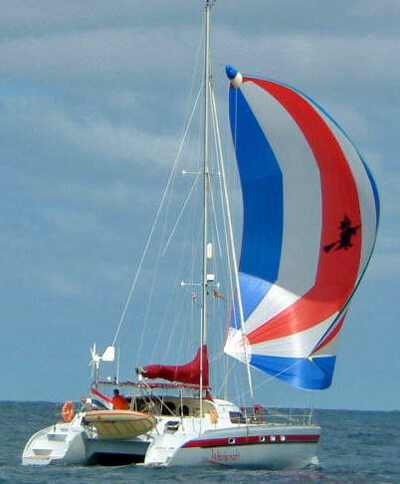 Excellent catamaran de grande croisière fabriqué dans un chantier réputé de Hollande et dessiné par l'architecte Alexander Verheus. Multicoque rassurant, facile à utiliser et éprouvé en haute mer. Equipement (voiles, électronique…récent). Très bon rapport qualité prix!
Description
VERSION PROPRIETAIRE – 3 CABINES
OWNER VERSION – 3 CABINS
Prix : 210 000 € TVA PAYEE / Price : 210 000 € VAT PAID
Le Nimble 45 catamaran marin et rapide, conçu par Alexander Verheus a été construit au chantier M&M à Drachten (NL). Le premier et actuel propriétaire a commencé son tour du monde tout de suite après le lancement du bateau. Il a toujours été bien entretenu et soigné en permanence. En 2015/2016 le bateau a eu un refit ainsi que le remplacement de l'électronique, afin d'être remis au prochain propriétaire dans les meilleures conditions pour une navigation autour du monde en tout sécurité et confort.
This seaworthy and well performing catamaran Nimble 45, designed by Alexander Verheus has been build at the M&M yard in Drachten (NL). The first and present owner started their circumnavigation straight after the launch of the boat. She has always been well maintained and permanently cared for. In 2015/2016 she had a refit including new electronics in order to be handed over to the next owner in best condition and ready to sail again around the world in safety and comfort.
Specifications
Chantier / Yard / Werft: M & M – Drachten (NL)
Modèle / Type: Nimble 45
Année / Year / Zu Wasser : 1996
Architecte / Architect / Konstrukteur: Alexander Verheus
Longueur hors tout / LOA / Lüa: 13.50m
Largeur / Beam / Büa: 6.60m
Tirant d'eau / Draft / Tiefgang: 1.15m
Poids lège / Empty weight / Leergewicht: 6 T
Déplacement / Displacement / Verdrängung: 9 T
Capacité gasoil / Fuel tank: 280 ltr
Capacité eau douce / Fresh water tank / Frishwassertank: 250 ltr
Réservoir eaux grises / Grey water tank / Fäkalientank: 2 x 160 ltr
Motorisation / Engine / Motortyp: 2 x VOLVO PENTA 1D-30 – 30 CV – de 08/2017 / 2 x VOLVO PENTA 1D-30 – 30 HP – of 08/2017
Hélices / Propellers: 2 Hélices GORI repliables tripales (2017) / 2 GORI foldable 3-blade propellers (2017)
Transmission / Drive: Saildrive
Dernier antifouling / Last antifouling: 2017
Pavillon / Flag / Flagge: NL
Visible / Located / Liegeplatz : NL
Voiles / Sails
GREEMENT 2015
Grand voile DOYLE – 45m² – 2013 / DOYLE mainsail – 45m² – 2013
Génois DOYLE – 35m² – 2013 / DOYLE genoa – 35m² – 2013
Tourmentin – 7m² / Stormjib – 7m² on baby stay
Tangon / Pole
Enrouleur de foc / Jib furler with double groove / Fockrollanlage
Gennaker + génois supplémentaire / Gennaker + extra genoa
Equipement de pont / Deck Fittings
Passerelle / Gangway
Table de cockpit / Cockpit table / Cockpittisch
Coussins de cockpit / Cockpit cushions / Cockpitpolster
Bimini / Bimini / Cockpitpolster
Bossoirs / Davits
Douche de pont / Cockpit shower / Decksdusche
Mouillage / Mooring
Guindeau électrique Maxwell Liberty 1700/24V / Maxwell Liberty electric windlass 1700/24V
Ancre CQR avec 60m de chaîne de 10mm + cable de 40m / CQR Anchor with 60m of 10 mm chain + 40m cable
Ancre Danforth (aluminium) avec 10m de chaîne + cable de 60m / Danforth ancre (aluminium) with 10m of chain + 60m cable
Electronique / Electronics
Loch/Speedo / Log/speedometer : Raymarine i50 – 2017
Sondeur / Depthsounder / Tiefenmesser : Raymarine i50 – 2017
Girouette/anémomètre / Wind direction and speed : Raymarine i50 – 2017
GPS
Compas Raymarine ST50 – 2015
BLU / SSB Jaesu 600
VHF – Sailor
Radar Furuno 1623 – 2015
AIS Icom
Lecteur de cartes / Chartplotter : Laptop – C-map (recently renewed)
Navtex
Navdata Raymarine ST50 – 2015
Immarsat-C System – Sailmail
Pilote automatique Autohelm 7000 / Autopilot Autohelm 7000
Electricité / Electrical
Windgenerator Eclectic Energy D400
Circuit 220V
Batteries 2 x 70Ah + 320Ah / 24V – 2013
Convertisseur Mastervolt / Mastervolt inverter
Alternateurs 2 x 40A/24V + 2 x 50A/12V / Alternators 2 x 40A/24V + 2 x 50A/12V
Chargeur de batteries Victron et Mastervolt / Victron and Mastervolt battery charger
Aménagement intérieur / Interior Layout
3 Cabines doubles / 3 Double cabins
1 Douche / 1 Shower
2 Toilettes / 2 Toilets
Hauteur de la nacelle 2.05m / Bridgedeck headroom 2.05m
Hauteur dans les coques 2.05m / Hulls headroom 2.05m
6 Prises 220V / 6 x 220V sockets
12 Hublots ouvrant / 12 Opening hatches
Table de cuisson gaz 2 feux / 2-Burner gas stove
Four / Gas oven
Evier 1 ½  / S/s sink 1 ½
Eau sous pression / Pressurised water
Eau chaude / Hot water
Pompe eau de mer / Seawater pump
Réfrigérateur / Refrigerator
Chauffage fonctionnant au diesel + électricité / Heating system diesel + electricity
4 Ventilateurs / 4 Fans
Compresseur plongée avec équipement / Diving compressor and equipment
Sécurité-Divers / Security-Extras
Annexe – 6 pers – RB – Hypalon – 2008 / Dinghy – 6 pax – RB – Hypalon – 2008
Hors bord Yamaha / Outboard engine Yamaha
Survie Viking Pro – 2010 – révisée en 2017 / Viking Pro liferaft – 2010 – serviced 2017
8 Gilets de sauvetage / 8 Lifejackets
6 Harnais / 6 Harnesses
6 Pompes de cales / 6 Bilge pumps
Bouée de sauvetage / Danbouy
Echelle de bain / Boarding ladder
2 Panneaux de survie / 2 Escape hatches
Ancre flottante / Sea drogue
EPIRB
5 Extincteurs / 5 Extinguishers
Détecteur de gaz / Gas detector
Caractéristiques
Modèle / Version

NIMBLE 45

Chantier / Boatyard

DRACHTEN (NL)

Architecte / Architect

Alexander VERHEUS

Année de construction / Launching year

1996

Matériaux / Material

sandwich polyester

Pavillon / Flag

NL

TVA Payée / Paid VAT

oui/yes

Longueur / LOA

13,50

m

Largeur / Beam

6,60

m

Tirant d'eau / Draft

1,15

m

Poids / Weight

6000/9000

kg

Surface au près / Winward sail surface

80

m²

Système anti-dérive / Keel type

ailerons/keels

Motorisation / Engines

2x30hp Volvo 2017