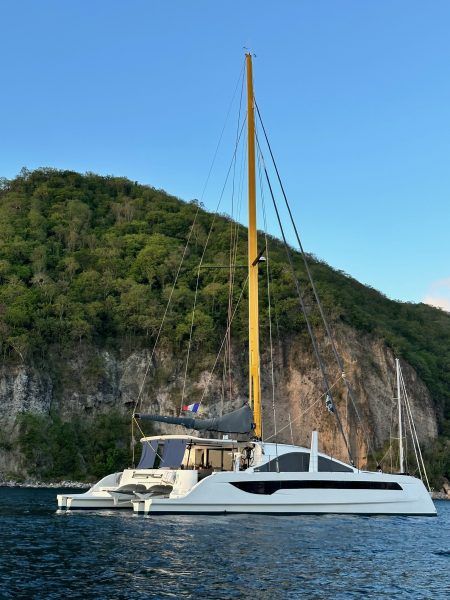 An inspired design (based on the ideas of French racer Laurent Bourgnon ), a demanding achievement in the Latvian O'YACHT shipyard (author of the excellent LEROUGE O'Yacht Class 4 plan) and a preparation-adjustment by a specialist in the marine hydraulics (slavery of maneuvers). The philosophy of this large catamaran is that of a pure multihull to preserve easy performance, an oceanic stride and a smooth and safe passage in rough or cross seas. The weight/power ratio is in its favor and allows it a welcome payload when cruising. The performance is up to the design, but the maneuver can be carried out with a reduced crew thanks to perfectly designed and controlled hydraulic assistance via large Harken Performa winches (hydraulic), 2 hydraulic sheet stokers for the mainsail, 3 hydraulic furlers for the headsails. The carbon mast is rotatable, the rigging textile, and the mainsail surface is adjusted by means of a hydraulically furling boom. The power and availability of hydraulics is beyond comparison to what could be provided by electrical systems. This servo system has already been tested with total success on Outremer 40-43/TS42/0RC50…).
The interior volumes and the light are spectacular, as is the cocpit space! The foredeck is accessible directly from the saloon!
Size:
19cm x 9,05cm x 25cm

(LxWxH)
Description
ONE CAT  CHARACTERISTICS
62 ft Catamaran built in sandwich E-Glass vinylester, 30 % carbon reinforcement.
Year of build 2019
O YACHT CLASS 6, engineered and assemble by Vyacht, Maxence Valdelievre
Architech : Doug Shikler
CE Cat A certification
FLAG : French (VAT paid)
LWL : 62 ft, 19m
Beam : 30 ft, 9,05m
Draft min : 5 ft, 1,5m (retractable dagger board and rudder to achieve 1m)
Draft max : 8,5 ft
Displacement Light : 14 Tonnes
Max Displacement : 17,5 Tonnes
Water : 600 Litres ( single tank structural )
Diesel : 400 Litres ( Single tank plastic )
Mast height above water : 82 ft, 25 m
Carbon Mast, Carbon dargger board, Carbon rudder, Carbon bowsprit (retractable 2m), Carbon furling boom
Sails : (2 years old) all DELTA
Proradial grey Dacron on triradial cut : Main sail 95mÇand trinquette 47mÇ
Light Genoa in DCX 95mÇ
Code 0, heavy carbon, 145 mÇ
Code D, in Stormlite, 245 mÇ
Engine :
Hybrid Diesel Electric,
1 SOLE Diesel, 82 Hp , 2000H. Shaft line with Gory 3 blades folding prop 24 inch
Day tank 50L automatic.
1 Electric 11 Kw for manoeuvres
Deck hardware :
Full hydraulic manoeuvres on screen with load sensors.
2 hydraulic winches Harken 70,2 Performa
2 hydraulic carbon cylinder for main sheet
3 hydraulic furler for Trinquette, genoa and fwdsails on bowsprit.
Lewmar Flush deck panel.
Retractable Bowsprit 2m
750 mm hight guardrail with dynema line, Aluminium black anodised stanchions Goiot
Windlass 2000 watts Lewmar Concept 3 Aluminium
70 m of 12mm chain
Delta 40 Kg Anchor
Emergency Anchor Fortress Aluminum
Spade 32 Kg Anchor with 30 m of 12mm chain, auxilary
Emergency hatchgoiot 5 handles position well high fwd
 Mast :
Carbon rotating mast
Furling carbon boom
Carbon spreaders
Dynemaa shrouds on lashing and carbon chain plates
Hydraulic permanent mast jack to tension the rig and sense the loads. Boat structure is at rest when mooring.
Steering :
Carbon steering wheel
External carbon rudders retractable
Dynema câble and carbon push bar
Hydraulic autopilot lecomble and Schmitt
Tender :
V lift in Carbon (50Kg) for light Tender ( 250 Kg Max )
Highfield 3,6 with 15 HP
Water maker :
60l/H Unitam 48 volts
Electronic :
Raymarine I70 data at Chart table
Raymarine P70 at Chart table
Raymarine VHF at Chart table
Radar Raymarine
AIS Raymarine
Axiom 7 touch screen at steering wheel.
ELECTRIC :
Single engine 12 volt lithium battery 20 Amps
Housse battery 24 volts, 200 amps lithium LFPO
Support battery, 48 volts, 100 amps LFPO
Most big power câble are Aluminium
Wirring using deported power box driven by chart table panel.
48 volts outside power for propulsion, water maker and hydraulic power pack
7X300 watts Rigide solar panel.
4 dedicated to 48 Volts bank
3 dedicated to 24 Volts bank
48 Volt alternator on Engine
24 Volts Altenrator on Engine
12 Volts Alternator on Engine
3 KW converter 24 volts
3 KW converter 48 volts
INTERIOR :
One Cat is very ligtly furnished and modifications can easily be undertake.
-3 Double Cabines 160×200 and 1 Single 80×2000 + Workshop in Engine Room.
-3 Toilettes with showers ( twofitted with gravity holding tank 100L and 50L)
-7 Kg whashing machine
Outside tableelectric motion transformable in queen size bed.
Inside table electric motion transformable in bar.
Kitchen,
3 Gaz burners
Gaz Oven
Freezer 36 L , 220 volts
Fridge table top 120 litres , 220 volts
Fridge SST door 120 litres, 24 volts
Hot water 50L on engine and 220 volt.
2 Outsides shower with hot water and 2 swim ladder
Huge AFT Storage. Huge Sail locker….
Caractéristiques
Modèle / Version

O YACHT CLASS 4

Chantier / Boatyard

O YACHT

Architecte / Architect

DOUG SHIKLER

Année de construction / Launching year

2019

Matériaux / Material

E GLASS VINYLESTER CARBON

Pavillon / Flag

Français

TVA Payée / Paid VAT

oui/yes

Longueur / LOA

19

m

Largeur / Beam

9,05

m

Tirant d'eau / Draft

1/2,60

m

Poids / Weight

16000

kg

Surface au près / Winward sail surface

142

m²

Système anti-dérive / Keel type

dérives carbonne

Motorisation / Engines

SOLE DIESEL 82HP en ligne d'arbre dans une coque plus un moteur électrique 11Kw pour les manoeuvres