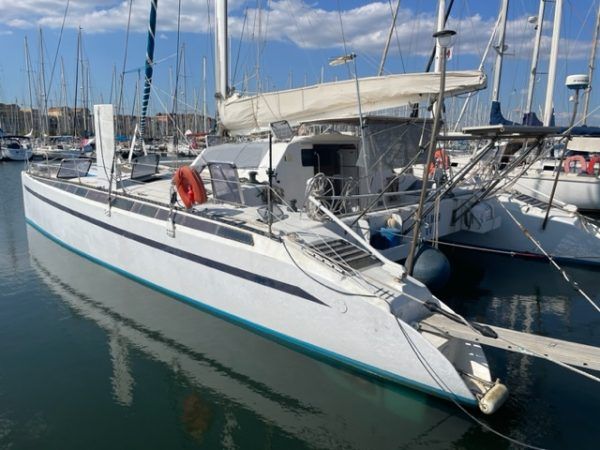 This magnificent SAIGA 46′ comes from Jacques Fioleau's drawing board. This talented French architect is less well known than most of the tenors of current industrial productions, but he was nevertheless a visionary pioneer of the years 1985-2000.
The unforgettable little Diabolo 28, the fantastic Etincelle 60′, Les Contraste 44 and other Saïga are all testimonies to the talent of the architect. Beautiful silhouette, low weight, stiff and solid frame in epoxy, integral dinghy, these are the main characteristics of this superb fast-traveling multihull. Recent Black Flag carbon rotating mast (2013), recent Lombardini 4-cylinder 40hp engines and in perfect condition (700h) Mainsail hydranet in very good condition, Furling genoa in good used condition + two spinnakers.
A recent electric Lewmer 44 completes the deck plan for the solo maneuver. Complete and functional electronics (checked on site). Annex 2023. This multihull is attractive and reassuring, it will delight a savvy owner who knows how to carry out a general overhaul of the boat. The side rigging like the front beam martingale will need to be changed (more than 8 years old), deck and hull painting is to be expected (no emergency). Favorite catamaran, to be chosen for its performance, its safety in blue water cruising and its flattering silhouette. The interior volume is less than contemporary units, the performance is much higher!
Description
PHOTOS SOUS INVENTAIRE…….
INVENTAIRE
| | |
| --- | --- |
| SPECIFICATIONS | |
| Chantier / Shipyard | NAVI COMPOSITES |
| Modèle / Type |  SAIGA 46 |
| Année / Year | 1988 |
| Architecte Naval / Naval Architect | JACQUES FIOLEAU |
| Designer / Design | |
| Longueur hors tout / LOA | 13.87 |
| Longueur à la flottaison / Waterline length | |
| Largeur / Beam | 7.53 |
| Tirant d'eau / Draft | 0.90/2.40 |
| Dépl prêt à naviguer / Displ ready for sail | 8, 5T |
| Déplacement lège / Light displacement | 7.5T |
| Dépl chargement max / Displ full load | |
| Capacité Gasoil / Fuel tank capacity | 2 X 90 LTR |
| Capacité eau douce / Fresh water capacity | 2 X 240 LTR |
| Capacité réservoir eau noire / Black waste tank | 0 |
| Capacité réservoir eau grise / Grey water tank | 2 X 75 LTR |
| Nom du bateau / Yacht name | BAELMOR |
| Pavillon / Flag | FR |
| Visible / Location | GRUISSAN |
| Bateau ex charter / Ex charter boat | |
| TVA PAYEE-NON PAYEE / VAT PAID-NOT PAID | PAYEE |
| Autres / Other | |
| | |
| --- | --- |
| CONSTRUCTION | |
| Matériel coque / Hull material | SANDWICH AIREX EPOXY |
| Matériel pont / Deck material | |
| Peinture coque/pont | PEINTURE TOTALE A FAIRE |
| Autres / Other | MARTINGALE POUTRE AVANT D'ORIGINE |
| | |
| --- | --- |
| MOTEUR 1 / ENGINE 1 | |
| Marque / Make | LOMBARDINI 1204 LDW |
| Année / Year | 2013 |
| N° de série / Serial number | |
| CV / HP | 39CV |
| Heures moteurs / Engine hours | 704 |
| Hélices / Propellers | MAX PROP BI-PALES REPLIABLES |
| Transmission / Drive | SAILDRIVE – JOINT A CHANGER |
| Alternateur – Amp / Alternator – Amp | |
| Vitesse croisière / Cruising speed | 7NDS |
| Vitesse maximum / Max Speed | 9NDS |
| Autres / Other | |
                                                                                                                                                                     2
| | |
| --- | --- |
| MOTEUR 2 / ENGINE 2 | |
| Marque / Make | LOMBARDINI 1204 LDW |
| Année / Year | 2013 |
| N° de série / Serial number | |
| CV / HP | 39CV |
| Heures moteurs / Engine hours | 721 |
| Hélices / Propellers | MAX PROP BI-PALES REPLIABLES |
| Transmission / Drive | SAILDRIVE – JOINT A CHANGER |
| Alternateur – Amp / Alternator – Amp | |
| Vitesse croisière / Cruising speed | |
| Vitesse maximum / Max speed | |
| Autres / Other | |
| | |
| --- | --- |
| MAT & GREEMENT / MAST & RIGGING | Marque – hauteur – finition / Brand – size – finish |
| Mât alu / Aluminium mast | |
| Mât carbone / Carbon mast | ROTATIF – BLACK FLAG COMPOSITES |
| Mât enrouleur / Furling mast | |
| Bôme alu / Aluminium boom | X |
| Bôme carbone / Carbon boom | |
| Bôme enrouleur / Furling boom | |
| Bôme canoë / Canoe boom | |
| Enrouleur / Furler | OUI |
| Emmagasineur / Drum | |
| Lazy Jacks | X |
| Lazy Bag | X |
| Bout-dehors / Bowsprit | |
| Girouette / Wind indicator | X |
| Autres / Other | |
| | |
| | |
| --- | --- |
| VOILES / SAILS | Marque – m² – état / Brand – m² – condition |
| Grand voile lattée / Fullbatten mainsail | HYDRANET – ENVIRON 10 ANS 75M2 |
| Grand voile à corne / Square top mainsail | |
| Grand voile à rond de chute / Horizontal cut | |
| Génois / Genoa | SUR ENROULEUR – HYDRANET |
| Enrouleur manuel – électr / Manual – electr furler | |
| Gennaker | |
| Trinquette / Stayail | |
| Foc / Jib | |
| Tourmentin / Storm Jib | |
| Code 0 | |
| Solent | |
| Spi symetrique – asymetrique – chaussette | SPI SYM ET ASYMETRIQUE |
| Ris automatique cockpit / Automatic reefs cockp | |
| Drisses / Halyards | |
| Ecoutes / Sheets | |
| Accastillage spi / Spinnaker fittings | |
| Accastillage gennak / Gennaker fittings | |
| Autres / Other | |
| | |
                                                                                                                                                                     3
| | |
| --- | --- |
| EQUIPEMENT PONT / DECK FITTINGS | Matériel – Type – Qté – Marque / Material – Type – Qty – Brand |
| Pont en teck / Teak deck | |
| Balcons avant/arrière / Pulpit/Pushpit | |
| Filières / Lifelines | |
| Chandeliers / Stanchions | |
| Winchs manuels / Manual winches | 5 SELFTAILING (DONT ANTAL ET LEWMAR) |
| Winchs électriques / Electric winches | 1 LEWMAR 44 |
| Trampoline | X |
| Prise lavage de pont / Deck wash outlet | |
| Panneaux de pont / Deck hatches | |
| Hublots de coque / Portholes on hull | |
| Bloqueurs / Stoppers | |
| Autres / Other | |
| | |
| | |
| | |
| --- | --- |
| MOUILLAGE / MOORING | Marque – kg – Qté / Brand – kg – Qty |
| Guindeau électrique / Electric windlass | LOFRANS AVEC TELECOMMANDE + TELECOMM SANS FIL |
| Compteur de chaines / Chain counter | |
| Ancre principal / Main anchor | |
| Ancre secondaire / Secondary anchor | |
| Ancre de poupe / Stern anchor | |
| Patte d'oie / Mooring bridle | OUI |
| Chaine long-diam / Chain long-diam | |
| Bouts longueur / Warps – long | |
| Pare-battages / Fenders | |
| Amarres / Warps | |
| Gaffe / Boathook | |
| Autres / Other | |
| | |
| | |
| --- | --- |
| COCKPIT | |
| Portes coulissantes / Sliding windows | OUI UNE |
| Coffres de rangements / Storage lockers | X |
| Cockpit en teck / Teak cockpit | |
| Cockpit en flexiteck / Flexiteck cockpit |  OUI |
| Table de cockpit / Cockpit table | |
| Bimini | X |
| Coussins de cockpit / Cockpit cushions | |
| Pare brise bimini / Bimini windscreen | |
| Taud de soleil-protection / Cockpit enclosures | |
| Eclairages / Cockpit lights | OUI |
| Eclairage de courtoisie / Courtesy lights | OUI |
| Hauts parleurs / Cockpit loudspeakers | |
| Machine à glaçons / Icemaker | |
| Réfrigérateur / Refrigerator | OUI |
| Glaçière isotherme / Isotherm cooler | OUI |
| Plancha – Grill | |
| Répétiteurs / Repeaters | X |
| Bossoirs / Davits | X |
| Plateforme hydraulique / Hydraulic platform | |
| Autres / Other | |
| | |
| | |
| --- | --- |
| POSTE DE BARRE / HELMSTATION | |
| Barre à roue / Steering wheel | 2 |
| Barre franche / Tiller | OUI |
| Barre franche de secours / Emergency tiller | |
| # de consoles de barre / # steering stations | |
| Assise de barre avec coussin / Steering seat | |
| Compas avec carter / Compass with cover | X |
| Instruments | |
| Commande guindeau / Windlass control | |
| VHF | |
| Commande moteur / Engine control | X |
| Panneau de controle moteurs / Engine control panels | |
| Autres / Other | |
| | |
| | |
| | |
| --- | --- |
| JUPES / TRANSOMS | |
| Jupes en teck / Teak transoms | |
| Echelle de bain / Swimming ladder | |
| Douche de cockpit / Cockpit shower | |
| Mains courantes / Handrails | |
| Capots moteurs / Engine room hatches | |
| Autres / Other | |
| | |
| | |
| --- | --- |
| ELECTRONIQUE / ELECTRONICS | Marque – modèle / Brand – type |
| Centrale de navigation / Navstation | |
| Traceur / Chart plotter | GPS TRACEUR GEONAV 11 SUNSHINE – CARTES |
| GPS | NAVIONICS |
| Radar | FURUNO 1623 |
| Pilote automatique / Autopilot | NKE GYROPILOT – VERIN SUR SECTEUR DE BARRE |
| AIS émetteur/récepteur / AIS Transceiver | GPSMAP421 – GARMIN |
| VHF | SEACOM |
| BLU / SSB | |
| Loch – speedo / Log – speedometer | NKE REPETITEURS |
| Girouette – anémomètre / Wind indicator – speed | X |
| Antennes / Antennas | |
| Tracphone | |
| Iridium | |
| WIFI | |
| Ordinateur / Computer | |
| Détecteur de poissons / Fishfinder | |
| Propulseur d'étrave/poupe / Bow/stern thruster | |
| Autres / Other | |
| | |
| | |
                                                                                                                                                                     4
                                                                                                                                                                     5
| | |
| --- | --- |
| ELECTRICITE / ELECTRICITY | Marque – qté – modèle / Brand – Qty – type |
| Batteries / batteries | 4 X 100 AMP – 4/5 ANS |
| Batteries moteurs / Engine batteries |  2 |
| Batterie propulseur / Engine bow thruster | |
| Générateur / Generator | |
| Controlleur batteries / Battery controller | X |
| Chargeur batteries / Battery charger | X |
| Convertisseur / Inverter | X – 3000W – 2007 |
| Climatisation / Airconditioning | |
| Chauffage / Heater | |
| Panneaux solaires / Solar panels | 2 |
| Eolienne / Wind generator | |
| Eclairage sous marin / Underwater lighting | |
| Eclairage cockpit LED / LED cockpit lights | |
| Eclairage pont LED / LED deck lights | |
| Feux de navigation LED / LED navigation lights | |
| Ecl de courtoisie jupes / Courtesy lights transom | |
| Ecl de courtoisie cockpit / Courtesy lights cockpit | |
| Eclairage intérieur LED / LED inside lights | |
| Variateur / Dimmer | |
| Ventilateurs / Fans | |
| Prise de quai / Shorepower | X |
| Prises 12V / 12V outlets | |
| Prises 220V / 220V outlets | |
| Toilettes électriques / Electric toilets | |
| Autres / Other | |
| | |
| | |
| | |
| --- | --- |
| PLOMBERIE / PLUMBING | Marque – modèle – qté / Brand – type – Qty |
| Dessalinisateur / Watermaker | SCHENKER 30 LTR/H – 12V – 2008 – jamais démarré. |
| Réservoirs d'eau / Water tanks | 2x |
| eau chaude / Hot water  | Eau chaude sur 220V à quai |
| Eau douce sous pression / Fresh water pressure | X |
| Eau de mer sous pression / Salt water pressure | |
| Réservoirs eaux noires / Black water tanks | |
| Réservoirs eaux grises / Grey water tanks | 2 |
| Pompe de cale électrique / Electric bilge pump | |
| Pompe de cale manuelle / Manual bilge pump | |
| Autres / Other | |
| | |
| | |
| | |
| --- | --- |
| EQUIPEMENT DE PLONGEE / DIVING EQUIPMENT | Marque / Brand |
| Compresseur / Compressor | |
| Bouteilles de plongée / Diving bottles | |
| Autres / Other | |
| | |
                                                                                                                                                                     6
| | |
| --- | --- |
| HIFI | Marque / Brand |
| Radio | X |
| TV | X |
| Homecinema | |
| Hauts parleurs intérieurs / Inside speakers | |
| Hauts parleurs cockpit / Cockpit speakers | |
| Hauts parleurs cockpit avant / Front cockpit speak | |
| Hauts parleurs flybridge / Flybridge speakers | |
| Autres / Other | |
| | |
| | |
| | |
| --- | --- |
| AMENAGEMENT INTERIEUR / INTERIOR LAYOUT | |
| Cabines doubles / Double cabins | 4 |
| Cabines simples / Single cabins | 4 (2 x lits superposés dans pointes avant) |
| Couchettes doubles / Double berths | |
| Couchettes simples / Single berths | |
| Salles de bains / Bathrooms | 4 |
| Toilettes / Toilets | 4 manuelles Lavac |
| Cabinet de toilette / Toilet & wash basin | |
| Couchette pic avant / Front peak berth | |
| | |
| CARRE / SALOON | Forme – matériel / Shape – material |
| Canapé / Sofa | X |
| Table de salon / Saloon table | X |
| Sellerie / Cushions | |
| Vaigrage / Lining | |
| | |
| TABLE A CARTES / CHART TABLE | |
| Rangement / Storage | X |
| Fauteuil / Seat | |
| | |
| CUISINE / GALLEY | Forme – matériel – marque / Shape – material – brand |
| Plan de travail / Countertop | |
| Rangements / Storage lockers | |
| Evier / Sink | 2 BACS |
| Table de cuisson / Stove | 2 FEUX GAZ |
| Gaz ou électrique / Gas or electric | |
| Four / Oven | FOUR |
| Réfrigérateur / Refrigerator | Grand réfrigérateur avec compartiment congélation |
| | A quai 220V – en navigation au gaz |
| Micro ondes / Microwave | |
| Robinets / Taps | |
| Eau sous pression / Pressurised water | |
| Lave vaisselle / Dishwasher | |
| Lave linge / Washing machine | |
| Sèche linge / Drying machine | |
| | |
| CABINES / CABINS | Coque – av – arrière / Hull – front – aft |
| Cabine propriétaire / Owner cabin | |
| Salle de bains propr / Owner bathroom | |
| Rangements / Storage lockers | |
| Cabines invités / Guest cabins | |
| Salles de bains invités / Guest bathrooms | |
| Rangements / Storage lockers | |
| Cabine équipage / Crew cabin | |
| Salle de bains équipage / Crew bathroom | |
| Rangements / Storage lockers | |
| Coursives / Companionways | |
| Autres / Other | |
| | |
| | |
| | |
| --- | --- |
| SECURITE / SAFETY | |
| Survie – personnes / Liferaft – persons | A REVISER – ACHETE EN 2013 |
| Balise EPIRB | X |
| Balise WHATUSEA | |
| Gilets de sauvetage / Lifejackets | X |
| Fusées / Flares | |
| Extincteurs / Fire extuinguishers | X |
| Ancre flottante / Floating anchor | |
| Autres / Other | |
| | VANNES industrie pétrole DE 2019 |
| | |
| | |
| --- | --- |
| DIVERS / EXTRAS | Marque – m / Brand – size |
| Annexe / Dinghy | Z-RAY RANGER – plancher alu – 2021 |
| Hors bord / Outboard engine | Mercury 2.5cv – 4 temps |
| Ancre, chaîne annexe / Dinghy anchor, chain | |
| Matériel de pêche / Fishing gear | |
| Outils & pièces détachées / Tools & spare parts | |
| Moustiquaires / Mosquito nets | |
| Rideaux / Curtains | |
| Toiles de fermeture cockpit / Cockpit enclosures | |
| Toiles de fermeture flybridge / Flybridge enclosures | |
| Autres / Other | |
| | |
Caractéristiques
Modèle / Version

SAIGA 46

Chantier / Boatyard

NAVI COMPOSITES

Architecte / Architect

JACQUES FIOLEAU

Année de construction / Launching year

1988

Matériaux / Material

SANDWICH AIREX VERRE ÉPOXY

Pavillon / Flag

Français

TVA Payée / Paid VAT

oui/yes

Longueur / LOA

13,85

m

Largeur / Beam

7,53

m

Tirant d'eau / Draft

0,60

m

Poids / Weight

7500/9500

kg

Surface au près / Winward sail surface

100

m²

Système anti-dérive / Keel type

2 dérives sabres

Motorisation / Engines

Lombardini 4 cylindres 40hp 700h 2013