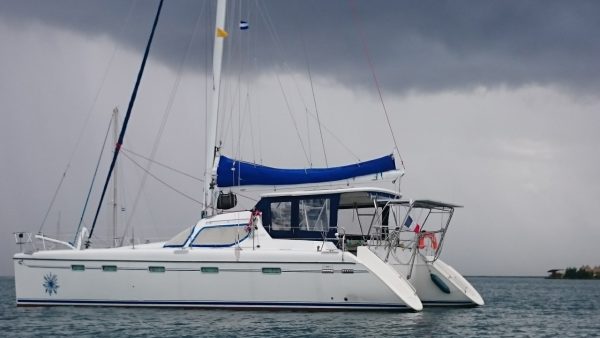 Le PRIVILEGE 435 est un catamaran de grande croisière océanique de taille raisonnable. Idéal pour une famille voyageuse ou un couple. Le positionnement dans le Rio Dulce (Guatémala) en fait un point de départ idéal pour une année sabbatique ou un départ vers la Caraïbe et le Pacifique. Les conditions d'accueil des marinas du Rio Dulce sont équivalentes aux meilleurs installations européenes
Description
VERSION 4 CABINES
4 CABIN VERSION
Prix : 284 000 € TVA NON PAYEE / Price : 284 000 € VAT NOT PAID
Le Privilège 435 est un bateau fiable, solide, bien construit, simple à entretenir. Mais c'est aussi un bateau puissant et confortable, il permet de bonnes moyennes journalières, en toute sécurité.
Le bateau est prêt pour de nouvelles navigations, autonome en énergie électrique et en eau. Il est bien équipé avec dessal, panneaux solaires, générateur, chargeur et convertisseur, guindeau électrique.
The Privilege 435 is a reliable, well-designed, solid and easy to maintain cat. But she is also powerful and comfortable, she allows you good average daily speeds in total safety.
The boat is ready to set sails again, self-sufficient in energy production and water. She is well equipped with watermaker, solar panels, generator, charger and inverter, electric windlass.
Specifications
Chantier / Yard: Alliaura Marine
Modèle / Type: 435
Année / Year : 2006
Longueur hors tout / LOA: 13.40m
Largeur / Beam: 7.05m
Tirant d'eau / Draft: 1.35m
Tirant d'air / Air draft: 20.25m
Déplacement lège / Light displacement: 8300 kg
Déplacement en charge / Full displacement: 12 000 kg
Capacité gasoil / Fuel tank: 420 ltr
Capacité eau douce / Fresh water tank: 600 ltr
Réservoir eaux noires / Black water tank: 1
Motorisation / Engine: 2 x VOLVO 20 40 – 3 cylindres – 40 CV /  2 x VOLVO 20 40 – 3 cylinder – 40HP
Hélices / Propellers: Hélices Auto Prop – Burton Propellers – hélices à pas variable et mis en drapeau / Self propelled feathered pitch propellers
Transmission / Drive: Saildrive S 130 – jupes saildrive changées en 2015 / saildrive gaskets changed in 2015
Heures moteurs / Engine hours: tribord environ 2000 h – changé en 2009 / babord environ 4000 h / Starboard approx 2000 h – changed in 2009 / Portboard approx 4000 h
Heures génerateur / Generator hours: 2100 h approx
Dernier antifouling / Last antifouling: Novembre 2017 / November 2017
Pavillon / Flag: Français / French
Visible / Located : Guatemala
Mât & Gréement / Mast & Rigging
Mât MARECHAL auto porté avec 1 étage de barres de flèches poussantes / Freestanding MARECHAL mast with 1 step of spreaders
Haubanage d'origine auto porté / Original self supporting rigging
Bout dehors / Bow sprit
Voiles / Sails
Grand voile 62m² – 2012 / Mainsail 62m² – 2012
Génois sur enrouleur Facnor – 45m² / Genoa on furler Facnor – 45m²
Gennaker sur emmagasineur – 67m² / Gennaker on reefer – 67m²
Equipement de pont / Deck Fittings
2 Winchs Harken 48/ 2 Harken winches 48
1 Winch Harken 20 / 1 Harken winch 20
2 Winchs Harken 40 / 2 Harken winches 40
1 Winchs Harken 44 / 1 Harken winch 44
Accastillage divers : bloqueurs, taquets, poulies, etc / Fittings : stoppers, cleats, blocks, etc
Bimini
Bossoirs / Davits
Hublots Lewmar / Portholes Lewmar
Panneaux de pont Lewmar / Lewmar deck panels
Mouillage / Mooring
Guindeau électrique LOFRANS X3 – 1500W / LOFRANS X3 – 1500W electric windlass
Ancre ROCNA 33 kg – 2012 / ROCNA anchor 33 kg – 2012
Chaîne de 12mm – 60m galvanisée en 2016 et cablot de 40m de 22mm / Chain of 12mm – 60m galvanised in 2016 and rope of 40m of 22mm
Deuxième ancre avec chaîne de 12mm et ancre plate / Secondary anchor of 12mm and sand anchor
Pompe de lavage de chaine / Wash pump for anchor chain
Amarres / Mooring lines
Pare battages / Fenders
Electronique / Electronics
Equipement Raymarine / Raymarine equipment
Pilote automatique – vérin électrique / Autopilot with electric strut
Loch, sondeur, anémomètre ST60 / Log, sounder and wind indicateur ST60
AIS émetteur/récepteur – 2016 / AIS transceiver – 2016
VHF Ray 240 – 2014
Radar Raymarine
Lecteur de cartes C90 – 2014 / Plotter C90 – 2014
Téléphone satellite Iridium / Satellite phone Iridium
Baromètre électronique Vion / Electronic barometer Vion
Electricité / Electrical
Batteries service : 7 x 105 Amp – batteries gel Life Line – 2015 / Service batteries : 7 x 105 Amp – gel batteries Life Line – 2015
Batteries moteurs / Engine batteries: 2 x 100
Chargeur de batteries : Mastervolt 80 Amp – 220V / Battery charger : Mastervolt 80 Amp – 220V
Convertisseur Mastervolt 2000 VA / Inverter Mastervolt 2000 VA
Panneaux solaires 950W – 2012 / Solar panels 950W – 2012
Régulateur panneaux solaires MPPT 60 Amp / Solar panel regulator MPPT 60 Ampt
Prise de quai / Shorepower inlet
Contrôleur de batteries Mastervolt BTM / Mastervolt battery controller BTM
Chauffe-eau 40 ltr sur le moteur et 220V – 2014 / Water heater 40 ltr on the engine and 220V – 2014
Dessalinisateur Echo Tech 45 ltr/h – 12V – fonctionne avec les panneaux solaires / Water maker Echo Tech 45 ltr/h – 12V – works on the solar panels
Minéralisateur d'eau pour l'eau de boisson / Water mineralizer for drinking water
Pompe de cale électrique JABSCO par coque / JABSCO Electric bilge pump per hull
4 Pompes évacuation douches / 4 Shower pumps
2 Pompes de cales moteurs / 2 Engine bilge pumps
2 Pompes manuelles Plastimo / 2 Plastimo hand pumps
1 Pompe gros débit 220V / 1 High velocity pump 220V
Groupe électrogène 2800W (à réviser) / Generator 2800W (to be serviced)
Aménagement intérieur / Interior Layout
4 Cabines doubles avec lit en 160 x 200 / 4 Double cabins with beds 160 x 200
Equipets, placards, tiroirs / Cubbies, lockers, cupboards and drawers
Banquette centrale / Central sofa
2 Salles de bains/WC électriques JABSCO / 2 Bathrooms with electric JABSCO toilets
1 Cabinet de toilette avant babord avec lavabo et lave linge 5kg / 1 Front starboard shower stall with basin and washing machine 5kg
1 Cabinet de toilette avant tribord avec lavabo et grande douche / 1 Front portboard shower stall with basin and spacious shower
Carré confortable / Comfortable saloon
Table à cartes / Chart table
Coursive tribord – nombreux rangements / Starboard companionway – numerous lockers
Rideaux / Curtains
Cuisine / Galley
Plaque de cuisson gaz – 3 feux / 3 Burner gas stove
Four / Oven
Réfrigérateur inox / Inox fridge
Congélateur inox – coursive bâbord / Inox freezer – port companionway
Evier inox 2 bacs / Double inox sink
Divers / Miscellaneous
Annexe AB semi-rigide 3.20m / Semi-rigid AB dinghy 3.20m
Hors bord Yamaha 15 CV – 4 temps / Yamaha outboard engine 15 HP – 4 stroke
Grappin, gonfleur / Dinghy anchor and inflator
2 Bouteilles de gaz de 13 kg avec possibilité d'une bouteille supplémentaire dans le coffre / 2 Gas bottles of 13 kg with possibility of 1 extra bottle in dedicated locker
Survie 6 places – à réviser / Liferaft 6 pax – to be serviced
Coffret de fusées / Marine flare box
Balise de détresse / Emergency beacon
Extincteurs / Fire extinguishers
Gilets gonflables / Inflatable life jackets
Matériel de pêche / Fishing gear
Pièces détachées / Spare parts
Outillage complet pour mécanique et électricité / Complete mechanical and electric tooling
Divers outils : perceuse, ponceuse, polisseuse, chalumeau, etc / Several tools : electric drill, sander, polisher, torch etc
Antifouling – 2017 : deux couches de CK 425 primaire céramique – quatre couches de Copper Coat – antifouling assurant une protection de 10 ans – un léger ponçage est nécessaire de temps en temps / Antifouling – 2017 : 2 layers of CK 425 barrier coat – 4 layers of Copper Coat – anti fouling ensuring 10 years protection – light sanding is necessary from time to time
Caractéristiques
Modèle / Version

PRIVILEGE 435

Chantier / Boatyard

Privilege marine

Architecte / Architect

Marc Lombard

Année de construction / Launching year

2006

Matériaux / Material

sandwich mousse verre polyester

Pavillon / Flag

Français

TVA Payée / Paid VAT

non

Longueur / LOA

13,40

m

Largeur / Beam

7,05

m

Tirant d'eau / Draft

1,35

m

Poids / Weight

8200/12000

kg

Surface au près / Winward sail surface

107

m²

Système anti-dérive / Keel type

ailerons/keels

Motorisation / Engines

2x40 hp Volvo sail drive