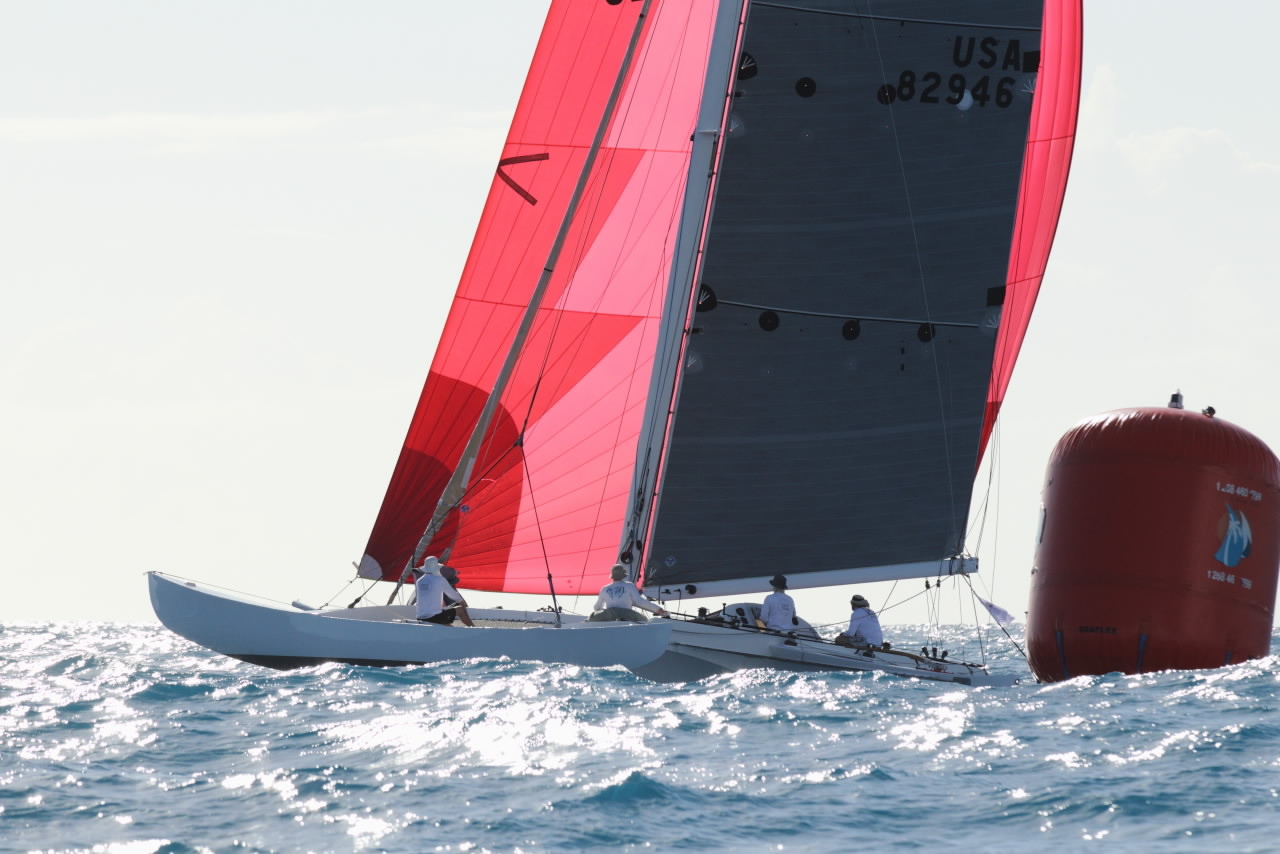 Ce NEWICK 50 est plus rapide que MOXIE ( qui est pourtant une référence! vainqueur de la Transat 1980), Il achève un refit technique complet avec peinture AWLGRIP et révision générale, voiles Hydranet neuve, gréement textile Liros neuf, électronique neuve.
THE BEST AT FAIR PRICE! YOU HAD THE DREAM OF AN ASTON MARTIN,  A FERRARI OR A CLASSIC YACHT?
YOU CAN HAVE THE TWO WITH THIS TRIMARAN; SPEED AND CLASSIC LOOKING!  A FUTURE COLLECTOR!
Trimaran légendaire aux performances toujours actuelles. Un dessin unique une construction rare et un entretien-maintenance-évolution à la hauteur d'un tel multicoques d'exception. Ce trimaran est plus rapide que MOXIE, le vainqueur de l'Ostar qui était déjà un bateau visionnaire et un monstre d'élégance. Solide, habitable (un peu!), confortable à la mer et d'une esthétique renversante, ce bateau est unique au monde ). Visible France Sud
Description
Diriez vous d'un violon Stradivarius ou d'un violoncelle Guarnerius qu'ils sont dépassés? Il en va de même pour ce trimaran événement, unique au monde! Visible sud France
This Solo Racer was designed for Fred Ball by Dick Newick in 1985.  Original construction drawings by Mr. Newick are available and remain with the vessel.  Her hulls were built by Alain Guidon and finished in Glen Arbor Michigan.  She was launched in Good Harbor Bay on Lake Michigan in 1987.  Her Gougeon Brothers designed wing mast, windshield, deck hardware and systems where completed by VanDam Woodcraft in Harbor Springs Michigan.  Her Launch took place in June of 1987.
Lucky Strike has always been on the Great Lakes and is only  a 2 owners boat.  She has been well  maintained and improved over the years and has a fine race record.  In the year 2014 alone she was first in class in both Chicago and Bayview Mackinac races.  She corrected first in class in the Bayview race and second in the Chicago race.  She has won the Marty Reick Trophy three times and the Super Mac and many other races over the years both crewed and solo. Visible south France
General Specifications
LOA 49'-11"
LWL 45'-4"
BOA 35'-0"
Draft 8'-0" to 2'-6"
Mast 62'-0"
Displacement 11,500 lbs
Fuel 30 gal
Water 30 gal
Sail Area
Main 728 sq ft
Solent 394 sq ft
Screecher 735 sq ft
Asymmetric (2) 1435 sq ft
Hull and Deck Structure
·       Composite sandwich construction over cedar and ash
·       Vacuum bagged epoxies with fiberglass and carbon reinforcing
·       Partial water tight bulkheads fore and aft
·       Stainless steel chain plates
·       Waterat high aspect carbon fiber dagger board and rudder 2010 and 2011
Mast
·       Carbon fiber wing mast and spreaders
·       Antal track a bat cars
·       Main halyard 2:1
·       Solent halyard 1:1
·       Screecher halyard 2:1
·       Asymmetric halyard 1:1
·       Burgee halyards
Boom
·       Carbon fiber
·       Two clew reef lines
·       Doyle stack pack with dyneema lazy jacks
Bow Sprit
·       Aluminum 6' with Colligo bob stay
·       Two tack points
Running Rigging
·       All control lines lead aft to cockpit
·       Mainsheet strop
·       Harken main traveler track
·       Harken solent traveler track
·       Self tacking jib sheets
·       Screecher and asymmetric  sheets
·       Asymmetric tack line
Standing Rigging
        Cadènes carbone 2022
·       Harken screecher furler
·       Dynadux and Liros 2020
·       Spectra running back stays
Sails
·       Main 2023 Hydranet Quantum
·       Solent Quantul 2020 Hydranet
·       Screecher 2010 North 3DL
·       Asymmetric Code AARP 2009 with snuffer
·       Asymmetric 2012 with snuffer
·       Staysail North 3DL 2012
·       Bluffton Bay storm sail 2007
·       Deck layout optimized for shorthanded sailing 2013
·       Lewmar 42 winches (4)
·       Lewmar 55 winches (2)
·       Spinlock jammers (7)
·       Forespar jammers (2)
·       Equplite snatch blocks (2)
·       Spectra knotless trampolines with spectra boarder lines 2013
Docking and Anchoring
·       Two 25'x3/4" bow and stern with eyes
·       Two 25'x5/8" spring lines
·       Four cleats
·       Fortress 23 main anchor with 50' 3/8" HT chain 100' nylon rode
·       Fortress day anchor with 8' 3/8" galvanized chain with 75' nylon rode
·       Four 24" Taylor fenders
·       Two 36" Taylor fenders
·       One 18" round Taylor fender
Propulsion & House Energy System
·       Yanmar 30HP with Sail Drive with 2 blade folding prop 2013 (900H)
·       Fuel filter and seawater strainer
·       One alternator
·       12V ships batteries (2)
·       One stainless steel fuel tank 30 gallons
·       Best battery bank switch and cutoff
·       12V house service panel 2014
·       Electrical System
·       Three 12V outlets at navigation table
·       400W invertor at navigation table with two AC plugs
·       LED lighting throughout
Electronics
·      Raymarine 2020 compléte
·       Iridium Satellite Phone
·       Otimizer
·       Bad Elf Bluetooth
·       Apple iPad with waterproof cover
·       Two Raytheon Tiller Pilots
Safety
·       Viking four man life raft new 2014
·       GPIRB
·       Ditch bag equipped with basic survival for four days
·       Air horns
·       Two floatation rings with yacht's name
·       MOMA man overboard unit through 2016
·       Throwing line
Steering System
·       Tiller with new delrin bearings and 12' carbon tiller extension
·       Retractable rudder cassette
Plumbing and Cooking
·       One 30 gallon fresh water tank with hand pump
·       One sea water foot pump
·       One galley sink
·       Two Forespar gimbaled camp stoves with pots and pans
·       One built in ice chest
·       One porta pottie
–       Watermaker Spectra
Finishes
·       New Awlgrip paint 2014
·       E Paint anti fowling bottom paint 2014
·       Dagger board and rudder E Paint international orange
·       Soft Deck rubber decking 2013
Accommodation
·       Forward stateroom sleeps 2 on spectra nets with pads
·       Main stateroom  sleeps two on closed sell foam mattresses
·       Main cabin contains galley and built in navigation station and  seat
·       High visibility windshield uniquely Newick
·       Two round  thirty inch inverted egress hatches in main accommodation
·       All hatches are Lewmar
Tender
·       One new 7' Zodiac soft bottom inflatable with Torgeedo electric outboard
Remarks
This yacht was designed as a Turbo Moxie.  In keeping with Dick Newick's design philosophies, she's a simple yacht with few inconveniences, well-loved and well cared for.
Caractéristiques
Modèle / Version

NEWICK 50

Chantier / Boatyard

Alain Guidon/Glenn harbour yard

Architecte / Architect

Dick Newick

Année de construction / Launching year

1987

Matériaux / Material

bois moulé époxy verre carbone/process West system

Pavillon / Flag

USA

TVA Payée / Paid VAT

non

Longueur / LOA

49,11'

m

Largeur / Beam

45,4'

m

Tirant d'eau / Draft

0,80/2,60

m

Poids / Weight

5700

kg

Surface au près / Winward sail surface

104

m²

Système anti-dérive / Keel type

Dérive centrale/centerboard

Motorisation / Engines

Yanmar inboard 30hp 2013