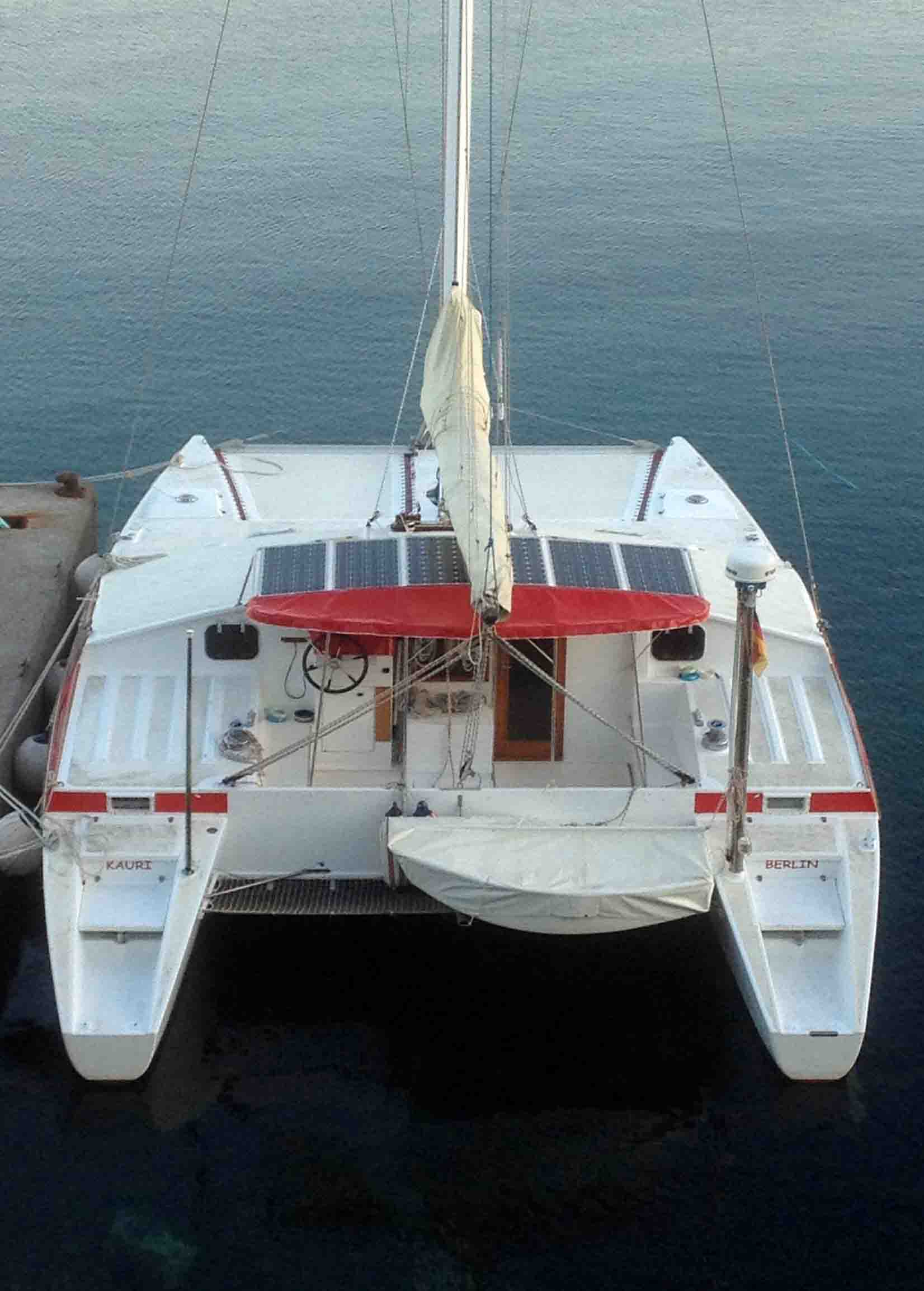 Superbe petit catamaran de voyage en strip planking sur plan Roger Simpson (Australie) construit dans le chantier Neumann/Kaestel (Berlin).  Raide, léger et bien habitable, ce multicoque original, bien construit et bien équipé sera parfait pour une année sabbatique ou un voyage dans la Pacifique ou la Méditerranée
Description
modèle version: Simpson 39 Wildside
1ère mise à l'eau 1997
chantier/boatyard: Neumann/Kaestel, Berlin  architecte/designer: Roger Simpson (Australie)
couleur coque/ hulls color: White  couleur pont / deck color : White
pavillon flag: German
NEW prix/price € 99.000,–
VAT payed
longueur ht LOA 11,68 m
largeur beam 7,00 m
tirant d'eau draft 0,90 m
poids lège 4,3 t
empty weight 6,5 t
système anti-dériv:keel system
surface au près/winward sail surface: 88 m2
grand-voile fully battened
mainsail
Génois/ Kevlar
matériau coque/ hulls material: Cedar Sandwich, Speedstrip, Epoxy
Deck/ matériau pont Plywood
Liegeplatz visible à Griechenland /Grèce
Motortyp marque make Sole Mitsubishi
année year 2009  puissance power 2x 29 PS
carburant fuel Diesel Tank réservoirs tanks 280 Liter
2018 Letzte dernière révision  last serviced
batteries 480Ah convertisseur inverter 1200W
panneaux solaires solar pannels 600W
Log loch speedo log +
Huminbird
sondeur depth find.
girouette wind dir –
. anémomètre wind speed –
GPS –
autre système other syst. –
andere Systeme
Radio radio radio – VHF +
pilote automatique +
Autopilot auto pilot
Radar radar Furuno
lecteur de cartes –
chart plotter
Navtex navtex +
Ankerwinsch +
guindeau, windlass
type d'annexe dinghy
Material matériau annexe 2,40m + 4hp Yamaha
Baujahr année annexe 2000
Länge longueur annexe 2,40 m
Motor moteur d'annexe 4 PS Yamaha
engine 25kg
anti osmosis treatment
Osmosebehandlung
2018
Antifouling dernier antifouling
Behandlung last date antifouled
3 Zahl der nombre de cabines
nb of cabins  3 Doppel
Hauteur sous barrots: 1,83 m
Hauteur dans la nacelle : 2,20m
réchaud cooker  four oven
eau sous pression eau ch. hot water –
350 Litre de réservoirs eau douce
freezer – WC 1 Marine cuve de rétension 1 /holding tank
This Simpson Design defines a fast modern cruising catamaran, that
offers style, performance and a high payload capacity. The flared hulls
keep the waterline narrow whilst vastly increasing usable interior
volume. LOA 11.68m LWL 11.3m Beam 7m with LAR keels and just
0,9m draft. Easy and fast to sail this catamaran is a performance
cruiser with excellent living space… the best of both worlds. The rare
valuable opportunity at remarcable price.
Caractéristiques
Modèle / Version

SIMPSON 39

Chantier / Boatyard

neumann/kaestel

Architecte / Architect

Roger Simpson

Année de construction / Launching year

1997

Matériaux / Material

Strip planking (lattes de red cedar/époxy/verre + pont Contreplaqué époxy verre

Pavillon / Flag

allemand

TVA Payée / Paid VAT

oui/yes

Longueur / LOA

11,68x7

m

Tirant d'eau / Draft

0,90

m

Poids / Weight

4500/6500 pour 88m2 au près

kg

Système anti-dérive / Keel type

ailerons/keels

Motorisation / Engines

2x Sole/mitshubishi 29hp diesel