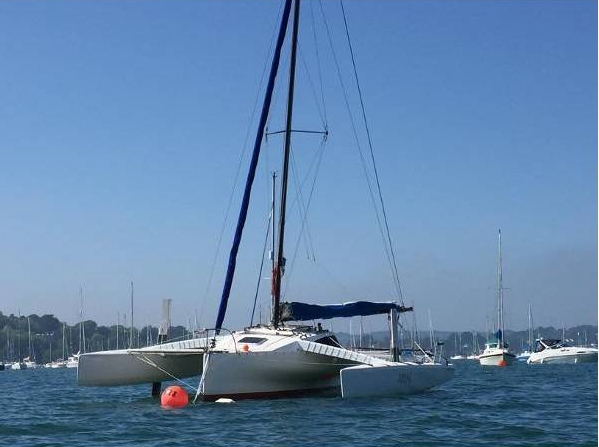 Magnifique petite machine très polyvalente (régate-vitesse-croisière) sur les plans de Gérard Chenus. La construction par le chantier Multimarine de Darren Newton fait référence. L'habitabilité de la coque centrale est surprenante et permet la croisière 2+2 (avec enfants) ou à 3 adultes et le couchage occasionnel à 5. Très fiable, le NINJA est une véritable réussite, opportunité exceptionnelle pour l'amateur éclairé. (visible Manche, démontable, transportable sur remorque de route)
Description
DESCRIPTIF FRANCAIS/ANGLAIS SOUS LES PHOTOS
« One of the best tris I've ever sailed » : ce sont les mots de son constructeur, Darren Newton, connu pour ses constructions minutieuses de multicoques de course (nombreux multicoques inscrits à l'OSTAR). Le Ninja 8 est un trimaran « one off » haut de gamme réalisé par le chantier DAZCAT de Millbrook en 1997 avec une finition superbe. Ce chantier est spécialisé dans la production de multicoques et de bateaux de course.
L'habitabilité exceptionnelle de la coque centrale, sa généreuse largeur au-dessus de la flottaison, correspond parfaitement à son programme : la course-croisière côtière avec tout le confort pour deux ou trois personnes, mais il permet le couchage pour 5 personnes.
Le bateau est en excellente condition avec un entretien régulier et soigné, ainsi que des mises à niveau constantes.
Prix (TVA payée) : 54 000 €
Poids lège : 1 150 kg (donnée constructeur)
_______________________________________________________________
NINJA 8
Concepteur : Jean Louis LIGONNET
Architecte naval : Gérard CHENUS
Constructeur : Darren NEWTON
Chantier : DAZCAT
Année de construction : 1997
Longueur HT : 8,65 m
Longueur flottaison : 7,95 m
Largeur HT : 6,60 m
Tirant d'eau : 0,45 – 1,40 m
Tirant d'air : 13 m
Poids lège armé : 1 300 kg (pesée septembre 2020)
Conception
Coques en Sandwich sous vide : verre polyester Bibiais de 420 g & mousse Airex, renforts locaux par tissus carbone dans les zones d'effort telles que poutre centrale, dérives et safrans.
Coque centrale : Crash box et volume étanche dans le poste avant, porque en composite sous roof (renfort de pied de mât), zone monolithique sous le pont dans le poste avant (renfort de poutre centrale).
Flotteurs : Crash box et volume étanche en avant des fixations du bras avant,        cloison étanche en avant du puits de dérive et cloison démontable en avant du safran, zone monolithique sous le pont avec reprise de stratifié sur le bordé de coque (renforts de poutres), puits de dérive en sandwich composite, stratifiés au fonds de coque et au pont, renforts en carbone à l'intérieur au niveau des fixations des safrans, panneaux de ponts Lewmar pour accès stockage.
Antifouling coppercoat (2017)
Cockpit autovideur avec jupe ouverte
Mât aile carbone sur rotule avec un étage de barres de flèche
Bôme carbone avec bras d'Arthur
Poutre centrale courbe en composite carbone
Poutre arrière droite en alliage d'aluminium anodisé
Dérives sabre asymétriques, implantées dans les flotteurs, manœuvrées depuis le cockpit
Deux safrans, coulissants dans des castings
Trois postes de barre : flotteurs (barre franche avec chandeliers, dosserets et compas) et cockpit (stick)
Mouillage Spade A80 avec 5 m chaîne 10 mm + 35 m bout plombé 12 mm
Trampolines (coutures 2020), filets (2020)
Pompe de cale manuelle
Passe coque sondeur et speedo
Accastillage
2 Winchs MEISSNER 21ST-32 sur roof et 1 winch MEISSNER 23ST-41 dans le cockpit (révisées en 2020)
Bloqueurs LEWMAR (4 sur le pont et 4 sur le mât), poulies RONSTAN/HARKEN
2 Taquets d'amarrage rétractables inox sur les flotteurs et 2 taquets inox à l'étrave
Bout-dehors en aluminium avec un emmagasineur NEX 1.5 Furlassist
Compas de cockpit
2 Compas barreur Silva 85 Magnetic North
Lignes de vie en câble gainé de part et d'autre de la coque centrale
Voiles
GV full-batten à corne avec 3 ris en carbone à membrane (UK Sails 2008)
Génois en kevlar à membrane sur enrouleur PROFURL (UK Sails 2008)
Code 0 (44 m2) Dimension Polyant(Incidence 2020)
Spi asymétrique (71 m2) Nylon croisière Coupe Tri-radiale (Incidence 2020)
Spi symétrique Nylon (79 m2)
Lazy bag, chaussette de génois (2020 et 2018)
Électronique
Traceur B&G Vulcan XSE7
cartographie Navionics 46XG
2 afficheurs cockpit B&G Triton 2
VHF AIS Radio Océan RO6800
FURUNO GPS Navigator
Balise EPIRB Ocean Signal E100
Confort
Couchage 3/5 personnes : couchette double avant (avec panneau de pont de pont) 2,05 x 1,55/0,60, 2 grandes couchettes de carré, 1 couchette arrière sous cockpit 1,95 x 0,70
Coussins tissu Sunbrella (2018)
Hauteur sous-barot descente : 1,95
Réchaud gaz SMEV 2 feux (bonbonne gaz à l'extérieur, robinet de coupure gaz l'intérieur), 1 évier inox (réservoir eau 50 L) avec pompe à eau électrique, volume frais sous table de carré
Électricité : circuit refait en 2018, panneau solaire souple Solbian 64 W (2018), régulateur Western Marine, batterie 12 V Stormline 115 Ah (2018), 4 spots LED, feux de navigation en tête de mât, 3 ports USB
WC manuel Jabsco
Moteur
HB Yamaha 8 CV 2 T arbre long (échappement et tous les joints dont ceux de culasse 2019)
Chaise de fixation en bois, articulée et coulissante sur rails fixés en fonds de cockpit, avec verrouillage de la chaise par axes inox (le moteur glisse sous le plancher du cockpit pour le centrage du poids).
Sécurité hauturière : catégorie C
Remorque de route (Ninja transportable démonté) autofreinée
«"One of the best tris I've ever sailed": the words are those of her builder, Darren Newton (a.k.a. "Daz"), managing director of Multimarine Manufacturing and famous for his racing multihulls.
The Ninja 8 is a "one-off" trimaran, built by the Dazcat yard in 1997. Combining top-notch sailing performance with a surprisingly generous living space for her 28 ft (8,65 m) size, she is ideal for coastal cruisers with a taste for speed and pure sailing pleasure. The boat comfortably accommodates a crew of three, but can sleep up to five people.Last appraised in 2016 and subsequently refitted and continuously maintained, the boat is in perfect condition. She needs no repairs or work, you can hoist the sails and go.
Price (VAT paid) : 54 000 €
Lightweight: 1 150 kg (shipyard data)
_______________________________________________________________
NINJA 8
Designer: Jean Louis LIGONNET
Architect: Gérard CHENUS
Builder: Darren NEWTON
Shipyard: DAZCAT
Year built: 1997
Flag of registry: France
Length o.a.: 8,65 m
Water length: 7,95 m
Beam o.a.: 6,60 m
Drought min. – max.: 0,45 – 1,40 m
Air draught: 13 m
Displacement: 1 300 kg (weighed in September 2020)
Conception
Sandwich composite hulls under vacuum: 420 g biaxial glass fibre/polyester & Airex foam, local reinforcements with carbon fabrics in strain areas such as the central crossbeam, daggerboards and rudders.
Main hull: Crash box and waterproof volume in the forward cabin, composite frame under the roof (reinforcement of the foot of the mast), monolithic area under the deck in the forward cabin (reinforcement of the central crossbeam)
Amas: Crash box and waterproof volume in front of the fasteners of the central crossbeam, watertight bulkhead in front of the daggerboards casings and demountable partition in front of the rudders, monolithic zones under the deck with darning of fibre composite laminates on the shell plating (reinforcement of the crossbeams), daggerboard casings in composite sandwich, laminated on the hull bottom and on the deck, inside carbon reinforcements at the fasteners of the rudders, Lewmar hatches for storage access.
Antifouling coppercoat (2017)
Self-draining cockpit with open sugar scoop
Carbon fibre rotating wing mast with ball and socket joint, one pair of spreaders
Carbon fibre boom with rotating arm
Curved central crossbeam in carbon composite
Straight rear crossbeam in anodised aluminium alloy
Asymmetric daggerboards, implemented in the amas, operated from the cockpit
Two shaped composite rudder blades, sliding into castings
Three helms: amas (hand steering gear with stanchions, back supports and compass) and cockpit (stick)
Anchoring: Spade A80 with 5 m mooring chain 10 mm + 35 m leaded rope 12 mm
Trampolines (sewing 2020), safety nets (2020)
Manual bilge pump
Through hull echo sounder and speedo
Deck equipment
2 MEISSNER 21ST-32 deck Winches and 1 MEISSNER 23ST-41 winch in the cockpit (cleaned and lubricated in 2020)
8 LEWMAR rope clutches (deck and mast), blocks RONSTAN/HARKEN
2 stainless steel mooring cleats rétractables on the amas and 2 stainless steel cleats at the bow
Aluminium bowsprit with NEX 1.5 Furlassist
Cockpit compass
2 Helm compasses Silva 85 Magnetic North
Draped cable life lines on both sides of the main hull
Sails
Carbon membrane full-batten gaff main sail with 3 reefs (UK Sails 2008)
Kevlar membrane PROFURL furling headsail (UK Sails 2008)
Code 0 (44 m2) « Dimension Polyant » (Incidence 2020)
Asymmetricalspinnaker (71 m2) « Nylon croisière Coupe Tri-radiale » (Incidence 2020)
Symmetrical Nylon spinnaker (79 m2)
Lazy bag, jib sleeve (2020 et 2018)
Electronics
B&G Vulcan XSE7 chartplotter
Navionics 46XG mapping
2 B&G Triton 2 cockpit digital display
VHF AIS Radio Ocean RO6800
FURUNO GPS Navigator
EPIRB Ocean Signal E100
Comfort
Bedding for 3/5 persons: front double berth (with deck hatch) 2,05 x 1,55/0,60, 2 king-size saloon berth, 1 rear berth under cockpit 1,95 x 0,70
Headroom (galley, navigation): 1,95
Sunbrella washable cotton upholstery (2018)
2-burner gas stove SMEV (outdoor gas cylinder, indoor shutoff valve), stainless steel kitchen sink (50 L water tank) with electric water pump, coll space under the saloon table
Electricity: Solbian 64 W flexible solar panel (2018), Western Marine regulator, 12 V Stormline 115 Ahbattery (2018), 4 Led spotlights, navigation lights at the masthead, 3 USB ports
Jabsco manual marine toilets
Engine
Yamaha 8 HP 2 stroke long shaft outboard (exhaust pipe and all gaskets including cylinder head 2019)
Wooden motor bracket, articulated, on travelling rails fixed on the bottom of the cockpit with stainless steel axes lock (the engine slides under the floor of the cockpit for weight centering)
Offshore security: EU category C
Autobraking road trailer (Ninja is transportable disassembled)
Caractéristiques
Modèle / Version

NINJA 8

Chantier / Boatyard

MULTIMARINE (UK)

Architecte / Architect

GÉRARD CHENUS

Année de construction / Launching year

1997

Matériaux / Material

sandwich mousse verre polyester sous vide renforts carbone

Pavillon / Flag

Français

TVA Payée / Paid VAT

oui/yes

Longueur / LOA

8,65

m

Largeur / Beam

6,60

m

Tirant d'eau / Draft

0,45/1,40

m

Poids / Weight

1300 (réels)

kg

Système anti-dérive / Keel type

dérive centrale

Motorisation / Engines

8hp Yamaha 2tps