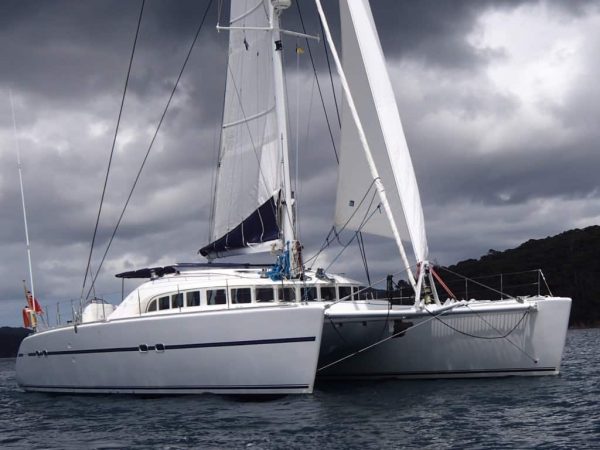 MAGNIFIQUE EXEMPLAIRE D'UNE SÉRIE TRÈS APPRÉCIÉE. présentation ET équipement D'EXCEPTION APRÈS REFIT 2016. rapport qualite prix rare. A SAISIR EN NOUVELLE ZÉLANDE.
Description
VERSION 4 CABINES
4 CABIN VERSION
Prix : 375 000£ TVA PAYEE / Price : 375 000£ VAT PAID
Ce superbe Lagoon 570 dessiné par VPLP et construit par CNB est un catamaran de croisière hauturier avec un bon équilibre entre la performance et le confort. Il n'a jamais été loué et a eu un refit en 2016 avec entres autres le remplacement des moteurs, du générateur, du dessalinisateur, des panneaux solaires, le gréement dormant, les voiles, le système d'eau chaude, le trampoline. Une opportunité rare, il vous attend, n'hésitez pas à nous contacter pour recevoir un dossier détaillé et pour le visiter.
This beautiful Lagoon 570 designed by VPLP and build by CNB is a classic ocean cruising catamaran, with a great balance between performance and comfort. She has never been chartered and a refit has been done in 2016 with replacement of the engines, the generator, the watermaker, the solar panels, standing rigging, the sails, the hot water system, the trampoline. She is a rare opportunity, and is waiting for you, do not hesitate to contact us in order to receive a complete file and for a visit.
Specifications
Chantier / Yard: CNB / Lagoon
Modèle / Type: Lagoon 570
Année / Year : 2003
Architecte / Architect: VPLP
Longueur hors tout / LOA: 16.80m
Largeur / Beam: 9.14m
Tirant d'eau / Draft: 1.43m
Déplacement / Displacement: 14980 kg
Hauteur mât / Air draft: 24.29m
Capacité gasoil / Fuel tank: 2 x 370 ltr
Capacité eau douce / Fresh water tank: 2 x 500 ltr
Réservoir eaux noires / Black water tank: avant tribord / forward starboard
Motorisation / Engine: 2 x Yanmar 4JH 110 CV – 2016 / HP – 2016
Hélices / Propellers: 2 Hélices Max Prop repliables avec coupe-orin / 2 Foldable Max Prop propellers + rope cutters
Transmission / Drive: Arbre + bague hydrolube + passecoques – 2016 / Shaftdrive + cutlass bearings + thru hulls – 2016
Paliers de mèches de safrans neuf / New bearings on rudders
Matériel coque / Hull Material : GRP
Heures moteurs / Engine hours: 500 h approx
Heures génerateur / Generator hours: 390 h approx
Dessalinisateur / Watermaker: 240 h approx
Pavillon / Flag: UK
Visible / Located : Nouvelle Zélande / New Zealand
Voiles – Gréement / Sails – Rigging
Voiles neuves en 2016 – Incidence / New sails in 2016 – Incidence
Grand voile entièrement lattée Hydranet 104m² / Full batten Hydranet main sail 104m²
Foc Hydranet 68m² sur enrouleur Profurl / Hydranet Jib 68m² on Profurl furler
Trinquette Hydranet 26m² sur enrouleur Profurl / Hydranet Staysail 26m² on Profurl furler
Code 0 – FACNOR FX 7000 + continuous line for code 0
2 Gennakers légers / 2 Light Gennakers
Spi Dolphin 180m² avec chaussette et accastillage / Dolphin Spinnaker 180m² radial head 2.2oz cloth with sock & gear
Bout-dehors – 2016 / Bowsprit – 2016
Mât aluminium anodisé – démâté et vérifié en 2016 / Anodised aluminium mas – removed and checked 2016
Gréement dormant inox – 2016 / Standing rigging s/s – 2016
Equipement de pont / Deck Fittings
1 Winch électrique Harken 56 pour écoutes / 1 Electric Harken 56 winch for main sheets
2 Winchs pour le spi / 2 Winches for spinnaker
2 Winchs manuels pour le foc / 2 Manual winches for the jib
1 Winch électrique Harken 48 pour chariot de GV  / 1 Electric winch Harken 48 for traveller
1 Winch pour drisse GV / 1 Winch for main halyard
2 Winchs manuels Harken 53 pour prise de ris / 2 Manual Harken 53 winchesfor reefing
Bossoirs / Davits (upgraded heavy duty)
Echelle de bains jupe tribord et babord / Swimming ladder to each transom
Douche de pont eau chaude/froide jupe tribord et babord / Deck shower hot & cold each transom
Coussins de cockpit – 2016 / Cockpit cushions – 2016
Bimini avec protections latérales – 2016 / Bimini with side screens with clear windows – 2016, net sunshade to back of cockpit
Compresseur 12V Hookamax système de plongée, régulateurs double / Air compressor 12V Hookamax dive system dual regulators
Cockpit  et jupes en teck / Teak in cockpit and transoms
Trampoline – 2017 / New Trampoline – 2017
Passerelle en teck / Teak gangway
Mouillage / Mooring
Guindeau électrique LOFRANS 1500W / LOFRANS 1500W electric windlass
Ancre SPADE – 2016 / SPADE anchor – 2016
Chaîne galvanisée de 100 de 12mm – 2016 / 100m Galvanised chain of 12mm – 2016
Deuxième ancre DANFORTH avec 5m de chaîne et câblot / Spare anchor DANFORTH with 5m chain and anchor rode
Patte d'oie / Anchor bridle
Electronique / Electronics
Sondeur: Raymarine ST60 aux postes de barres + centrale de navigation / Depthsounder: Raymarine ST60 at both helms + nav station
Loch: Raymarine ST60 aux postes de barres + centrale de navigation / Log: Raymarine ST60 at both helm + nav station
Pilote automatique Raymarine 7002 – 2016 + Raymarine 7001 avec télécommande / Autopilot Raymarine 7002 – 2016 + Raymarine 7001 w/remote as standby
Girouette/anémomètre: Raymarine ST60 aux postes de barres + centrale de navigation / Wind instruments: Raymarine ST60 at both helms + nav station
Radar: RAymarine digitale + réflecteur radar / Radar: Raymarine digital radar + Echopower canister radar reflector fixed to mast
Traceur Raymarine E140 + C120 + Détecteur de poisson Raymarine / Chartplotter: Raymarine E140 + C120 + Raymarine fish finder
AIS 650 avec diviseur aérien – 2017 / AIS 650 and aerial splitter – 2017
VHF Icom avec GPS VHF – 2016 avec télécommande au poste de barre babord +  deuxième VHF Sailor / VHF Icom with GPS VHF – 2016 with remote at port helm station + secondary Sailor VHF
TV intégrée + TV écran plat dans chaque cabine / TV built-in flat screen into saloon cabinet + flat screen TV's in each cabin
Stéréo: système Hifi installé dans le salon avec hauts parleurs Bose dans le cockpit / Stereo: Hifi system installed to main saloon with Bose speakers in cockpit
Radio: Icom IC 802 SSB – 2017
Téléphone satellite: Sailor Inmarsat / Sat Phone: Sailor Inmarsat Phone
Fax : Furuno FAX / Furuno FAX receiver
Pendule et baromètre: Weems et Plath / Weems and Plath clock and barometer
2 Compas neufs aux postes de barres / 2 New compass at each helm
Electricité / Electrical
Générateur Fisher Panda 1500i – 2016 – 390 h / Fisher Panda generator 1500i – 2016 – 390h
Dessalinisateur Dessalator 100 ltr/h – 12V/240V – 2016 – 240h / Watermaker Dessalator 100 ltr/h – 12V/240V – 2016 – 240h
Panneaux solaires : Solbian – 600W – 2016 / Solbian solar panels 600W with separate controllers – 2016
Réservoirs eau chaude en inox avec thermoplongeurs avec pompes neuves – 2016 / Stainless hot water tanks and immersion heaters with new pumps – 2016
Climatisation Webasto cycle inversé avec ventilateur dans chaque cabine et 2 dans le salon / Webasto reverse cycle airconditioning with separate fan coil units in each cabin and 2 in saloon
Chauffage Webasto cycle inversé avec ventilateur dans chaque cabine et 2 dans le salon / Webasto reverse cycle heater with separate fan coil units in each cabin and 2 in saloon
Convertisseur Mastervolt 2500 avec deuxième chargeur 100Amp – 2017 / Inverter Mastervolt 2500 with secondary 100Amp charger – 2017
Prise de quai 220V / Shore power 220V
1 Buzzer d'alerte de décharge des batteries / 1 Alarm for discharge of batteries
Eclairages LED / LED lights
Ventilateurs 12V dans chaque cabine / 12V Fans in each cabin
Lave linge Candy – 2016 / Candy washing machine – 2016
Batteries services : Rolls AGM R-12-200 – total 800Amp hrs – 2016 / House batteries : Rolls AGM R-12-200 – total of 800Amp hrs – 2016
Batterie moteur : Rolls 12V / Engine battery : Rolls 12V
Moniteur batteries : Xantrex link 10 / Xantrex link 10 Battery monitor
Sécurité / Safety equipment
4 Pompes de cale manuelle / 4 Manual bilge pumps
4 Pompes de cale électriques automatiques / 4 Electric automatic bilge pumps
Survie Winslow 8 pers. / Liferaft Winslow 8 man commercial grade
EPIRB Kannad – GPS Epirb – 2017 / EPIRB Kannad safe link – GPS Epirb – 2017
Extincteurs :  CO2 dans le salon + extincteurs à mousse dans chaque cabine et la cuisine + 2 extincteurs à poudre dans les coffres cockpit / Fire extinguisher : CO2 extinguisher in saloon + foam extinguisher in each cabin and galley + 2 large dry powder extinguishers in cockpit locker
1 Extincteur à gaz halon dans chaque compartiment moteur / 1 Halon gas fire extinguisher in each engine room
Aménagement intérieur / Interior Layout
4 Cabines doubles / 4 Double cabins
4 Toilettes électriques Jabsco 37010 / 4 Electric heads Jabsco 37010
4 Salles de bains / 4 Bathrooms
Matelas neufs 2016 / New mattresses 2016
Rideaux occultant et moustiquaires / Sliding mosquito and blackout screens to all deck hatches and windows
Cuisine en bas babord / Galley down port hull :
Réfrigérateur avec système de refroidissement à la coque / Keel cooled built in fridge
Réfrigérateur pour boissons dans le cockpit / Drinks fridge in cockpit
Congélateur avec système de refroidissement à eau / Water cooled built in freezer
Table de cuisson 4 feux gaz / 4 Burner gas hob
Four gaz / Gas oven
Lave-linge / Washing machine
Evier double bacs / Double s/s sink
Micro ondes SMEG four/grill / SMEG built in microwave oven/grill
Machine à glaçons: plomberie et cablage pré-installé / Ice maker: plumbing and wiring pre-installed
Lave vaisselle: plomberie et cablage pré-installé / Dishwasher: plumbing and wiring pre-installed
Plancha électrique / Electric grill plate
Divers / Extras
Caractéristiques
Modèle / Version

LAGOON 570

Chantier / Boatyard

Lagoon

Architecte / Architect

VPLP

Année de construction / Launching year

2003

Matériaux / Material

sandwich balsa verre polyester

Pavillon / Flag

UK

TVA Payée / Paid VAT

oui/yes

Longueur / LOA

16,80

m

Largeur / Beam

9,14

m

Tirant d'eau / Draft

1,40

m

Poids / Weight

15000

kg

Surface au près / Winward sail surface

172

m²

Système anti-dérive / Keel type

ailerons/keels

Motorisation / Engines

2X110 Yanmar 2016