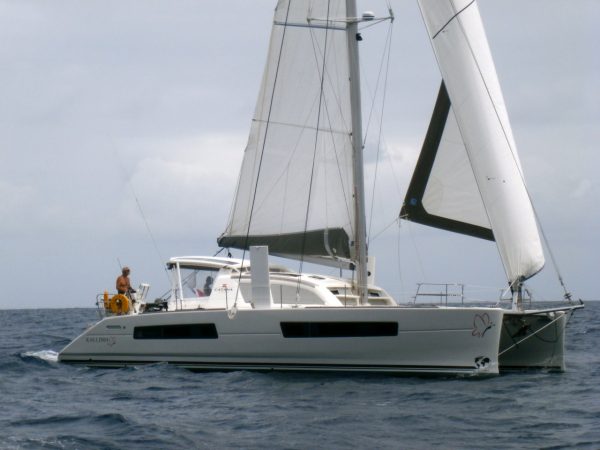 Kallima est le premier des Catana 47 30ème Anniversaire construits pour célébrer le 30ème anniversaire de la création du chantier Catana. Sur la base d'un Catana 47 Carbon Infusion de dernière génération le design intérieur a été repensé pour le confort et le grand voyage, grâce aux conseils et à l'implication de ses actuels propriétaires. Kallima reste un voilier d'exception et un des rares catamarans de voyage, alliant élégance, confort et performance. Il l'a prouvé en sillonnant avec ses propriétaires le Pacifique du nord au sud pendant 5 années et parcouru 33 000 milles. Il est en excellent état et a été très régulièrement entretenu avec une maintenance systématique et préventive, dont l'historique est fourni.
Il se trouve actuellement à sec en Polynésie. Il a été "hiverné" très méticuleusement. Le bateau est totalement équipé pour la grande croisière et prêt à appareiller pour le grand voyage ou des croisières polynésiennes. Les équipements qui devaient être révisés l'ont été; il ne manque plus que les affaires personnelles de son futur acheteur!
Kallima is the first of the Catana's 47 30th Anniversary range built to celebrate the 30th anniversary of the creation of the Catana shipyard. Based on the latest generation Catana 47 Carbon Infusion, the interior design has been redesigned for comfort and long term travelling, thanks to the involvement of her current owners. Kallima remains a sailboat of exception and one of the few long distance sailing catamarans combining elegance, performance and seaworthiness. She proved it by cruising with her owners in the Pacific from North to South for 5 years and sailed 33,000 miles. She is in excellent condition and has been very regularly maintained with a systematic and preventive maintenance, which history is provided.
She is currently out of the water in Polynesia. She has been "wintered" very meticulously. The boat is fully equipped for a circumnavigation and ready to sail in the Polynesian waters. All the equipment that needed a checkup has been revised; only the personal belongings of her future buyer are missing.
Description
Specifications
Chantier / Shipyard : CATANA
Modèle / Type : Catana 47 – 3 cabins – Edition 30ème Anniversaire
Année / Year : 2014
Architecte / Naval Architect : Christophe BARREAU
Design : LINEA Concept
Longueur hors tout / LOA : 14,20m
Largeur / Beam :7, 60m
Tirant d'eau / Draft : 1m/2.50m
Déplacement en charge / Displacement full load : 14 tonnes
Matériau / Material : Construction en infusion sandwich mousse Airex à cellules fermées, avec renforts en carbone. Renforcement de la coque sous la ligne de flottaison en tissus de Twaron, protection contre l'osmose grâce à l'utilisation au résine Vinylester. Les cloisons, le pont ainsi que le bimini ont été renforcés avec un tissu en fibre de carbone conférent à l'ensemble plus de rigidité et des performances accrues notamment au près et à l'accéleration / Construction in Airex closed cells foam sandwich infusion with carbon reinforcements. Reinforcement of the hull under the waterline in Twaron, protection against osmosis thanks to the use of Vinylester resin. The bulkheads, the deck and the bimini have been reinforced with Carbon fiber in order to get more rigidity and increased performance upwind and during acceleration
Capacité gasoil / Fuel Tank capacity : 600L
Capacité eau douce / Fresh water capacity : 670L
Réservoir eaux noires / Black waste tank : 55L
Moteurs / Engine : 2 x Volvo Penta D2 55F
Heures moteurs / Engine hours : 1600 h/engine
Hélices / Propellers : 2 Tri-pales repliables Volvo Penta / 2 3-Blade foldable propellers Volvo Penta
Transmission / Drive : Saildrive avec 2 skegs pour la protection des saildrives / Saildrive with 2 skegs for saildrive protection
Pavillon / Flag : Français / French
Visible / Location : Polynésie Française / French Polynesia
Moteurs / Engines
2 Moteurs Volvo Penta D2 55F de 2014, 1600h/moteur / 2 Volvo Penta D2 55F engines of 2014
Consommation / Consumption : 2.5 L à 1800 tours/minute / 5 L at 1800 rpm
Vitesse maximum avec les 2 moteurs / Max speed with the 2 engines : 9 noeuds / 9 knots
Vitesse de croisière avec 1 seul moteur / Cruising speed with 1 engine : 6 noeuds / 6 knots
Système de barre: transmission mécanique mixte à biellettes et à drosse – avec 2 safrans suspendus et compensés, montés sur paliers sphérique auto-alignés – 2 Barres à roue "imitation carbon" – 1 Barre franche de secours / Mechanical helm transmission system – 2 balanced spade rudders mounted with self aligning bushers – 2 "imitation carbon" steering wheels – 1 Spare tiller
Voiles & Gréement / Sails & Rigging
Mât, bôme et bout dehors en aluminium anodisé / Mast, boom and bowsprit anodised aluminium
Tirant d'air / Mast clearance : 21.50m
Gréement dormant vérifié fin 2019 / Standing rigging check up end 2019
Gréement courant complet en bon état / Running rigging good condition
Grand voile : 86m² en spectra hydranet "INCIDENCE" en excellent état, révisée en 2019 / Mainsail : 86m² in spectra hydranet "INCIDENCE" in very good condition, reviewed end of 2019
Lazy bag, Lazy Jacks
Génois : 53m²en dacron "INCIDENCE", révisé en 2019 en excellent état avec bande anti UV et enrouleur FACNOR nouvelle série / Genoa : dacron 53m², reviewed in 2019 in excellent condition with UV protection on furler "FACNOR" new generation
Gennaker : 83m² stormlite triradial "INCIDENCE" sur emmagasineur avec cable anti-torsion / 83m² Stormlite triradial cut "INCIDENCE" on drum with anti-twist cable
Spinnaker : 120m² asymétrique avec chaussette, révisé en 2019 / 120m² Asymetric with sock, reviewed in 2019
Trinquette / Staysail : 20m2 sur emmagasineur et câble anti torsion / 20m² on drum and anti twist cable
Tourmentin : 5m² en sac / Storm Jib : 5m² in bag
Winchs : 7 "HARKEN" dont 3 éléctriques (Harken 50 pour la drisse de GV, les bosses de ris, les écoutes de GV et de génois) / Winches : 7 "HARKEN" – 3 electric (Harken 50 for mainsail halyard, reefs, mainsail and genoa sheets)
Equipement de pont / Deck fittings
Bossoirs en aluminium anodisé avec bloqueurs SPINLOCK, bouts de relevage et protections annexe / Davits : anodized aluminium with SPINLOCK stoppers, lifting lines and stainless steel shackle snap
Echelle de bain sur jupe bâbord / Swimming ladder on port board transom
Branchement lavage de pont : 1 avec pompe d'eau de mer / Deckwash : 1 with sea water pump
Douche de pont : 1 sur la jupe bâbord avec eau chaude/froide / Deckshower : 1 at port board transom with hot/cold water
Coussins de cockpit : 3 + 2 sièges de barre / Cockpit cushions : 3 + 2 on the helmseats
Coffres de cockpit : 2 grands coffres sous le plancher et un profond sous un banc / Cockpit lockers : 2 large lockers under the cockpit and 1 deep locker under the seat
Bimini : Hardtop renforcé carbone avec rideaux de soleil + entourage complet du cockpit avec toiles et fenêtres intégrées / Bimini : hardtop carbon reinforced with drop down side curtains + complete canvas waterproof cockpit enclosures with lateral windows
Taquets d'amarrage : 10 très larges et solides / Cleats : 10 Large aluminium cleats
Compresseur d'air / Air compressor: 1 narghilé
Bouteilles de plongée : 2 petits blocs avec détendeurs / Diving bottles : 2 with regulators
Amarrage : nombre important d'aussières de toute longueur / Mooring lines : numerous lines of different length
Pare battages / Fenders: 10
Equipement de pêche / Fishing gear
Plancha mixte plancha/BBQ « ENO »
Pièces détachées mécanique, plomberie, électricité, électronique… / Lot of mechanic, electronic, plumbing, electric spares
Outillage : placard complet d'outillages divers dans la coursive bâbord / Full cupboard of tools in the port gangway
Jerrycans : Diesel 5 x 20L ; Gasoline 3 x 10L ; Water 3 x 20L
Electronique / Electronics
Sondeur : FURUNO Multifonction FI 504 – 2 répétiteurs au poste de barre tribord et à la table à cartes / Depthsounder: FURUNO Multifunction FI 504 – 2 repetitors at the starboard helm and at the chart table
Loch : FURUNO Multifonction FI 504 dans le cockpit – répétition à la table à cartes par le GPS / FURUNO Multifunction FI 504 in the cockpit – repetitor at the chart table by the GPS
Pilotes automatiques : NAVPILOT FURUNO 711 PK 1 avec 2 répétiteurs au poste de barre tribord et à la table à cartes – 1 Pilote de secours RAYMARINE à poste permanent / Autopilot : NAVPILOT FURUNO 711 PK 1 with 2 repetitors at the starboard helm and at the chart table – 1 Spare RAYMARINE autopilot
Anémomètre : FURUNO Multifonction FI 504 – 2 répétiteurs dans le cockpit et à la table à cartes / Wind instrument : FURUNO Multifonction FI 504 – 2 repetitors in the cockpit and at the chart table
Radar : FURUNO M 1623
Ordinateur fixe marinisé : PCLEC2110 de chez "ROM ARRANGE" spécial navigation SSD – sans ventilateur avec logiciel "OPEN CPN" et les cartes CM 93 / Fixed computer PCLEC2110 with deported screen – special navigation – fanless – SSD with software "OPEN CPN" and charts CM 93
AIS : FURUNO GPA – 0175 – classe B – Black box FA 50 – émetteur/récepteur / transmitter/receiver
GPS : FURUNO GP33
VHF : 1 fixe ICOM – IC – M423 + 2 portables (ENTEL et WESTMARINE)
Radio stéréo : ALPINE CDE – 171R
BLU : ICOM IC M710 avec antenne fouet / SSB ICOM IC M710 with antenna
Baromètre : multifonction "VION" branché sur le 12V / Barometer: multifunction "VION" on 12V
NOTE : Tous les appareils FURUNO fonctionnent ensemble en centrale de navigation, reliés par le réseau NMEA 2000 / All electronic devices FURUNO are operating as a navstation and linked by NMEA 2000 system
Electricité / Electrical
Batteries de service : 6 batteries pour un total de 700 Amp / Service batteries : 6 batteries for a totalof 700 Amp
Batteries moteurs / Engine batteries : 3
Générateur / Generator : PAGURO 4000 – 4 KVA – 470 heures/hours
Hydro-générateur / Hydro generator : WATT AND SEA 600W avec arbre long, permettant au bateau d'être totalement autonome en navigation / WATT AND SEA 600W with long shaft in order to be completely autonomous during navigation
Panneaux solaires : total 960 watts: 6 x 80W sur le roof et le bimini et 3 x 160W sur les bossoirs / Solar panels : total 960 watts: 6 x 80W on the roof and the bimini and 3 x 160W on the davits
Chargeur convertisseur / Charger inverter : VICTRON Multi 12V / 220V / 3000W
Prise de quai / Shorepower : 220V
Dessalinisateur / Watermaker : DESSALATOR duo 60 ltr/h – 295 h
Chauffage : WEBASTO 4,2 KW – 2 sorties d'air pulsé dans la cabine propriétaire et dans le carré / Heating : WEBASTO 4,2 KW – 2 fancoils in owner cabin and saloon
Mouillage / Ground Tackle
Ancre principale / Main anchor : SPADE 35 kg 40m de chaîne de 14mm et 100m de chaîne de 10mm (Neuf en 2019) / SPADE 35kg with 40m of chain of 14mm and 100m chain of 10mm (New in 2019)
Ancre secondaire / Secondary anchor : DELTA 25 kg 6,50m de chaîne de 10mm + 50m de bout plombé de 16mm / DELTA 25 kg 6.50m of chain of 10mm + 50m of cable of 16mm
Ancre de secours / Spare anchor : KOBRA II 20 kg
Ancre arrière : ancre légère "FORTRESS" 7,5 kg avec 10m de chaîne de 10mm et un câblot de 50m / Spare anchor : light aluminium anchor "FORTRESS" 7,5 kg with 10m of chain 10mm and line of 50m
Guindeau : LOFRANS 1700W avec télécommande à fil connectée sur le guindeau et une commande déportée au poste de barre tribord / Windlass : LOFRANS 1700W with wire control connected in the anchor locker and remote control at the starboard helm station
Aménagement intérieure / Interior Layout
Coursive tribord / Starboard companionway
Cabine propriétaire – couchette 1.60m de large et 2m de long sur 2 sommiers à lattes indépendantes – montés sur charnières et vérins à gaz inox / Owner's cabin – bed 1.60m wide and 2m long on 2 independant slatted bed frames with inox gaz struts
Nombreux rangements / Numerous storages
Cabinet de douche avec porte en plexiglas et cabinet de toilette avec WC marin manuel / Shower stall with plexiglass door and toilet with manual marine head
Coursive bâbord / Portboard companionway
Cabine arrière – 2 couchette en 70cm de large avec couloir au milieu – transformable en couchette double de 1.60m de large et 2m de long / Aft cabin – 2 single berths of 70cm wide convertible into a berth of 1.60m wide and 2m long
Nombreux rangements / Numerous storages
Grand placard technique avec outillages, pièces détachées / Large technical locker with toolsand spare parts
Cabinet de douche avec porte en plexiglas et cabinet de toilette avec WC marin manuel / Shower stall with plexiglass door and toilet with manual marine head
Cabine avant – triangle avant avec 1.40m de large aux épaules et 2m de long avec nombreux rangements / Front cabin – berth 1.40m wide at shoulders and 2m long with numerous storages
Carré / Saloon:
Table de repas repliable (1,70 m de long déplié) / Foldable dining table (1.70m unfolded)
Canapé en « L » avec housses / Sofa in « L » shape with covers
Pouf avec rangement et chaises / Pouf with storage and chairs
Equipets sous sièges et tiroirs / Storage under seats and drawers
Vaisselier / Dresser
Table à cartes / Chart Table:
Fauteuil réglable / Adjustable chart table seat
Tableau électronique et tableau électrique / Electronic and electric panels
Ecran d'ordinateur avec clavier et souris déportés / Computer screen with keyboard and mouse
BLU / SSB
Cuisine / Galley:
Cuisine en "semi U" avec plan de travail en korian / Galley in "semi U" with large countertop in korian
1 Evier ½ avec arrivée d'eau douce, eau de mer / 1 Sink ½ with sweet water tap and seawater tap
Table de cuisson 3 feux gaz CAN – modèle "cristal" / Gas cooker 3 burners CAN – model "cristal"
Four ENO modèle "Force 10" / Oven ENO model "Force 10"
Nombreux placards et tiroirs / Numerous storages and drawers
Réfrigérateur FRIGONAUTICA 160 ltr avec système de réfrigération par circulation d'eau sous la coque / Fridge FRIGONAUTICA 160 ltr – refrigeration system on hull exchanger
Congélateur FRIGONAUTICA 110 ltr avec système de réfrigération par circulation d'eau sous la coque / Freezer FRIGONAUTICA 110 ltr – refrigeration system on hull exchanger
Capacité eau douce 670 ltr en 2 réservoirs situés sous les couchettes arrières / Water capacity 670 ltr in 2 tanks situated under the aft cabins
Capacité eau chaude : 2 chauffe-eau électriques (2×55 ltr) connectés au circuit de refroidissement du moteur / Hot water capacity : 2 Electrical water heaters (2×55 ltr) connected on the engine cooling circuit
Réservoir d'eaux usées : 1 dans la salle de bain propriétaire – 55 ltr – évacuation à la mer par gravité avec vanne ou par le pont par nable / Holding tank : 1 in the owner's head – 55 ltr – drain at sea or by deck drain hole – vent with coal filters
Note: vaisselle, couverts, ustensiles de cuisine, batterie de cuisine, bouteilles de gaz resteront à bord / All kitchen equipment, crockery, silverware, propane bottles stay on board
Sécurité – Divers / Safety – Extras
Annexe 3D TENDER – 3.10m – fond aluminium – boudins hypalon – housse de protection / Tender 3D TENDER – 3.10m – aluminium bottom – hypalon – with cover
Moteur hors bord YAMAHA 15CV – sera révisé en 2020 / Outboard engine YAMAHA 15HP – will be checked in 2020
Radeau de survie "4 WATER" + de 24H – 6 places – révisé en 2019 / Life raft "4 WATER" +24 hours – 6 places – revised in 2019
Sacs de survie complètement préparés / Complete survey bag already prepared
Gilets de sauvetage / Life jackets : 6
Harnais / Harnesses : 6
Lignes de vie 3 – 1 sur le roof en faisant le tour du mât et 2 le long des passavents / Life lines 3 – 1 all around the roof + 2
Balise de détresse / EBIRP : OCEAN SIGNAL E 100G avec/with GPS
Fusées de détresse / Flares : 6
Extincteurs 4 : 2 automatiques dans les coffres moteurs et 2 dans le salon / Fire extuinguishers 4 : 2 automatic in the engine lockers and 2 in the saloon
Couverture anti feu près de la cuisine / Fireblanket near the galley
Pharmacie complète pour grand voyage / First Aid complete pharmacy for blue wter navigation
Perche IOR gonflable PLASTIMO / PLASTIMO IOR inflatable pole
Bouée couronne PLASTIMO / PLASTIMO life ring
Chaise récupération "MOB" et bouton "MOB" sur la VHF et le GPS / "MOB" chair and "MOB" button on the VHF and GPS
Pompes de cales manuelles : 2 dans les flotteurs / Manual bilge pumps : 2 in the hulls
Pompes de cales électriques : 4 – 1 dans chaque coffre moteur et 2 dans les flotteurs / Electric bilge pumps : 4 – 1 in each engine locker and 2 in the hulls
Caractéristiques
Modèle / Version

CATANA 47 Carbon infusion

Chantier / Boatyard

catana

Architecte / Architect

CHRISTOPHE BARREAU

Année de construction / Launching year

2014

Matériaux / Material

sandwich mousse verre/Carbone/kevlar infusion

Pavillon / Flag

Français

TVA Payée / Paid VAT

oui/yes

Longueur / LOA

14,02

m

Largeur / Beam

7,60

m

Tirant d'eau / Draft

1,20/2,50

m

Poids / Weight

12

kg

Surface au près / Winward sail surface

140

m²

Système anti-dérive / Keel type

dérives latérales

Motorisation / Engines

2x55hp Volvo D2