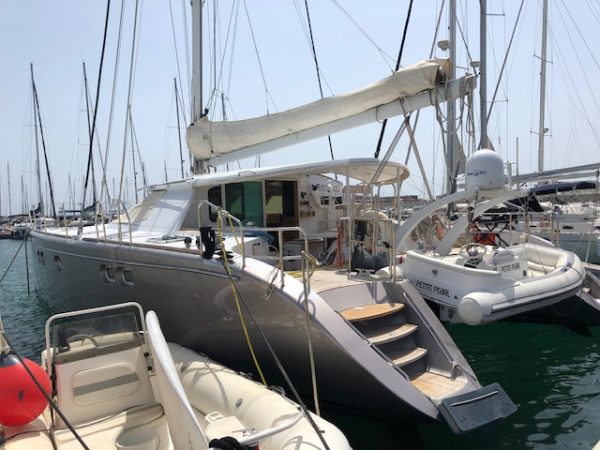 Catamaran one off en aluminium. Excéllent état et investissements réguliers. Menuiserie de belle qualité. Unité de voyage au long cours parfaite. Visible Espagne côte Méditerranéenne, leasing possible.
Description
Petite Pearl est un voilier d'exception parmi les catamarans de croisière. Construit en aluminium et en exemplaire unique pour un propriétaire exigeant, il est en parfait état d'entretien et de fonctionnement. Facile à manœuvrer en équipage réduit, il vous emmènera sans problème autour du monde en couple, ou en famille.
Petite Pearl is a sailing boat of exception among the cruising catamarans. Built in Aluminum, as a unique model , for a demanding owner, she is in a perfect condition pf maintenance.
Easy to handle for a reduced crew, she will safely transport you around the world, as a couple, or with your family.
CARACTERISTIQUES GENERALES / GENERAL SPECIFICATIONS
Chantier / Shipyard: Yapluka
Modèle / Type: 47
Année / Year: 2002
Longueur hors tout / LOA: 14.20m
Largeur / Beam: 7.80m
Tirant d'eau / Draft with skegs: 1.30m
Déplacement prêt à naviguer / Displacement ready for sail: 14 tonnes
Capacité gasoil / Fuel Tank: 2 x 300 ltr
Capacité eau douce / Fresh water : 2 x 400 ltr
Réservoirs eaux noires / Black waste tank: 2 x 150 ltr
Motorisation / Engine: 2 Volvo MD 22L – 50 HP
Heures moteurs / Engine hours: 771 – 768,5
Hélices / Propellers: tri-pales repliables / 3 Blade folding propellers
Transmission / Drive: saildrive
Pavillon / Flag: Allemand / German
Visible / Location: Valence/Espagne / Valencia/Spain
VOILES/GREEMENT – SAILS / RIGGING
Grand voile lattée 90m² / Full-batten Mainsail 90m²
Foc autovireur 36m² / Self tacking jib 36m²
Gennaker sur enrouleur / Gennaker on furler : 90m²
Spi asymétrique 170m² / Asymmetric spinnaker 170m²
INSTRUMENTS / ELECTRONICS
Centrale de navigation Garmin, panneau électrique / Navstation Garmin, instrument panel with electronic separated electrical switch column
VHF Horizon / VHF Horizon
Radar GPS Garmin 7612 / Radar GPS Garmin 7612
Loch/speedo/sondeur/anémomètre : Garmin dernière génération / Log/speedo/depthsounder/wind : Garmin new generation
Pilote automatique Lofrans Schmidt hydraulique / Autopilot Lofrans Schmidt hydraulic
ELECTRICITE / ELECTRICAL
Batteries moteurs : 2 + 1 pour le générateur / Engine batteries : 2 + 1 for the generator
Alternateur : 2 x 12 et 24V / Alternator : 2 x 12 and 24V
Générateur Whisper 8kva / Generator Whisper 8 kva
Dessalinisateur / Watermaker: 180 ltr/h
Convertisseur / Inverter : Whisper 4000W
Prises 220V dans chaque cabine et toilette / 220V Plugs in each cabin and toilet
HIFI / HIFI
Système BOSE surround / Stereo BOSE surround unit
AMENAGEMENTS INTERIEURS / INTERIOR LAYOUT
Table salon en érable / Table made in US maple
Coussins en mousse avec housses en Alcantara / Foam cushions with Alcantara cover
Rangements sous assises / Stowage underneath
Version propriétaire 3 cabines / Owner version 3 cabins
Coque tribord – propriétaire / Starboard hull – owner
Lit double 140 x 190 avec 2 sommiers à lattes indépendants / Double berth 140 x 190 with 2 independant slatted bases
Matelas en mousse Bultex 35 kg – 120mm épais avec housse amovible / Bultex foam mattress 35 kg – 120mm thick with removable cotton cover
2 Liseuses / 2 Reading lights
Plafonnier / Wall light
Chevet / Bedside desk
Tiroirs et rangements sous le lit / Drawers and storages under the bed
Etagères et rangements avec éclairages indirects / Upper bookshelf and storage with indirect lighting
Hauts-parleurs stéréo / Loadspeakers stereo
TV
Penderie / Wardrobe
Méridienne en alcantara avec rangement / Sofa with storage underneath
Secrétaire avec pouf en alcantara et éclairage / Secretary desk with mobile alcantara seat and lighting
Salle de bain propriétaire à l'avant / Forward owner's bathroom
Toilette marin électrique séparée / Separate electric marine toilet
Rangement haut / Upper storage
Vasque inox sur plan en bois / Stainless steel basin worktop in wood
Miroir et rangements hauts / Mirror and upper storage
Machine à laver 4.5kg / Washing machine 4.5kg
Assise avec rangement / Settee with storage
Douche séparée avec porte en verre / Separate shower with glass door
Douche avec étagère en Korian / Shower with tray in Korian
Porte serviette, crochet, support savon inox et étagère en verre / Towel rail, hook, stainless steel soap dispenser and glass rack
Rangement pour linge en érable / Linen storage in US maple
Coque babord – cabine arrière / Port hull – aft cabin
Lit double 140 x 190 avec 2 sommiers à lattes indépendants / Double berth 140 x 190 with 2 independant slatted bases
Matelas en mousse Bultex 35 kg – 120mm épais avec housse amovible / Bultex foam mattress 35 kg – 120mm thick with removable cotton cover
2 Liseuses / 2 Reading lights
Rangement haut avec éclairage indirect / Upper unit with indirect lighting
Tiroirs et rangement sous le lit / Drawers and storage under the bed
Etagère haut et rangement avec éclairage indirect / Upper bookshelf and storage with indirect lighting
Chevet / Bedside desk
Hauts-parleurs stéréo / Loadspeakers stereo
TV
Penderie / Wardrobe
Méridienne en alcantara avec rangement / Sofa with storage underneath
Secrétaire avec pouf en alcantara et éclairage / Secretary desk with mobile alcantara seat and lighting
Salle de bain / Bathroom
Toilette marin électrique séparée / Separate electric marine toilet
Rangement haut / Upper storage
Vasque inox sur plan en wenge / Stainless steel basin worktop in wenge wood
Miroir / Mirror
Douche séparée avec étagère en Korian / Separate shower with tray in Korian
Support savon inox et étagère en verre / Stainless steel soap dispenser and glass rack
Coursive / Companionway
2 Placards sur mesure / 2 Custom made cupboards
Cabine avant – Forward cabin
Lit double 160 (à l'avant) x 200 avec 2 sommiers à lattes indépendants / Double berth 160 (at front) x 200 with 2 independant slatted bases
Matelas en mousse Bultex 35 kg – 120mm épais avec housse amovible / Bultex foam mattress 35 kg – 120mm thick with removable cotton cover
2 Liseuses / 2 Reading lights
Rangement haut / Upper storage
Tiroirs et rangement sous le lit / Drawers and storage under the bed
Penderie / Wardrobe
CUISINE / GALLEY
Evier inox / Stainless steel sink
Plan de travail en Korian / Korian worktop
Table de cuisson induction Siemens / Stove induction Siemens
Micro ondes/grill pyrolyse 4d Siemens / Microwave/grill pyrolityc 4d Siemens
Frigo 212 ltr / Fridge 212 ltr
Congélateur 68 ltr / Freezer 68 ltr
Poubelle / Dustbin
Nombreux rangements (tiroir pour fruits et légumes, bouteilles) / Many storage units (fruits and vegetable drawers, bottle storages)
Machine à glaçons / Ice maker
DIVERS / EXTRAS
« Sky Screen » moustiquaires et stores sur tous les capots « Goiot » / « Sky Screen » mosquito nets and blinds on all deck hatches « Goiot »
Pare brises en Batyline / Outside screens in Batyline
Rideaux occultants dans chaque cabine et toilette / Blinds in all cabins and toilets
Annexe Evolution 10 + HB Yamaha 130 CV à turbine de 2015 avec 50 heures / Dinghy Evolution 10 + Outboard Yamaha 130 HP of 2015 jet powered 50 heures
Passerelle / Gangway
Douche de cockpit (eau chaude et froide) / Deckshower hot and cold water
Guindeau électrique Lofrans Falkon 1500 / Electric windlass Lofrans Falkon 1500
Caractéristiques
Modèle / Version

YAPLUKA 47

Architecte / Architect

Yachts Industries/Yapluka

Année de construction / Launching year

2002

Matériaux / Material

Aluminium hautes performances

Pavillon / Flag

Allemand

TVA Payée / Paid VAT

non

Longueur / LOA

14,20

m

Largeur / Beam

7,80

m

Tirant d'eau / Draft

1,30

m

Poids / Weight

15000

kg

Surface au près / Winward sail surface

126

m²

Système anti-dérive / Keel type

ailerons/keels

Motorisation / Engines

2x50hp Volvo Saildrives