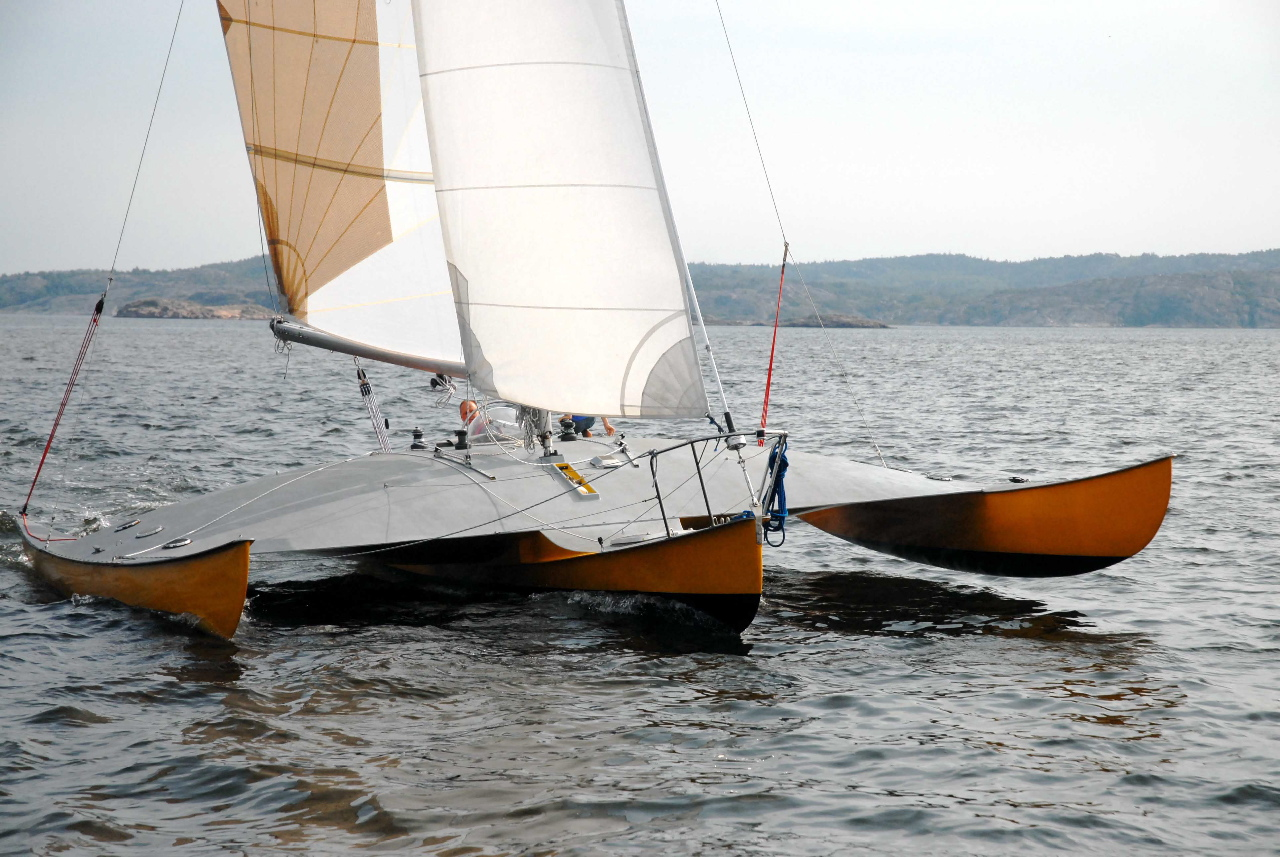 VENDU VENDU VENDU VENDU VENDU;;;;;;;;;;;;;;;;;;;;;;;;;;;;;;
Le VAL 31 est la porte d'entrée dans l'univers Newick habitable. Cette génération de trimarans est presque légendaire, bien mené et bien mis au point, ces bateaux sont capables de traversées spectaculaires. Ce sont également des day boat extraordinaires, necessitant une maintenance simple et des investissements raisonables. Pour les amateurs, ils permettent des croisières familiales ou amicales rapides et excitantes.
Cet exemplaire est disponible en Suéde dans un cadre enchanteur. Le vendeur propose d'inclure dans le prix une livraison en Angleterre ou en France ; mais il serait dommage de ne pas profiter de la localisation pour une fantastique croisière Baltique, pour laquelle le bateau est merveilleusement adapté
Size:
9,81cm x 7,60cm

(LxW)
Description
Présentation par le propriétaire
Take a Longshot – join the legend!
Sail in Sweden and have it delivered to the Med.
Dick Newick Val 31 Wing version
Built at Swanwick, England 1980. After a brief mailing contact with Dick Newick himself, before he sailed on , I got to know that my boat is a Sistership of five out of which "Tahiti Belle" is the most famous one. Participating in several races around Britain. Ostar and Jester challenge. The wharf tried to make production line but they did not succeed. Dick Newick told me val 31 is one of the earlier designs, named after his daughter, Valerie. It has proven itself by several ocean crossings; small but seaworthy .It is also a race winner in the 70´s most famous for the second place with Mike Birch in the Ostar across the Atlantic in 1976.
I found it in a bad conditions, neglected in 2009. I have , slowly converted it into a seagoing, minimalistic cruiser. Building a new cockpit and upgrading the interior. All the time in mind to keep Newick legacy and his sculptural design.
Inside there are a pantry/bench on either side as you come down the companionway. 1 origo spirit stove on Starboard and sink with a watercontainer on portside. One double bunk on each side on the wing and a portapotti with its own space next to the centreboard trunk. The forepeak is for storage. In the cockpit there is more storage in benches. The large cockpit is made for social life when in harbour.
The boat is equipped with a new furling jib, Harken. An older  mainsail in working condition. Older yellow and black spinnaker. The mast is an aluminium rotating wingmast, 13 meters. Forestay in stainless steel wire the sidestays and running backstays in dyneema, textile rigging. 4 Harken selftailing winches and all equipment in good racing standard from 1990. A racing centreboard from a racing tri has made better performance. Rudder ok but can be upgraded. The engine is an old but reliable Yamaha 9.9hp, 2 stroke, a 25 liter gastank. All equipment for standard cruising is included like anchor, mooring lines etc. There is no electric system. Lanterns are run on a single car battery, lights are torches and headlamps. The boat is on the hard, getting a new coat of paint and ready for sailing on an island in Sweden. Wy don't you join us and sail in the unique archipelago of west of Sweden in August and next year,  get it delivered down to the Mediterranean sea?
Caractéristiques
Modèle / Version

VAL 31 Wing version

Chantier / Boatyard

Swanwick

Architecte / Architect

Dick Newick

Année de construction / Launching year

1980

Matériaux / Material

Composite polyester/Divinycell/Verre

Pavillon / Flag

Suéde

TVA Payée / Paid VAT

oui/yes

Longueur / LOA

9,81

m

Largeur / Beam

7,60

m

Tirant d'eau / Draft

90/140

m

Poids / Weight

2500

kg

Surface au près / Winward sail surface

50

m²

Système anti-dérive / Keel type

Dérive centrale/centerboard

Motorisation / Engines

HB 9,9 Yamaha 2st